Time & Trust: What Teachers Need to Meet Student Needs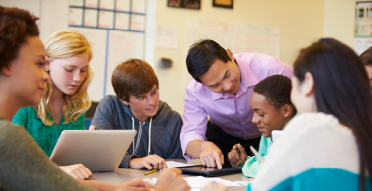 This guest blog was written by Sean McComb, an English and AVID teacher at Patapsco High School in Baltimore, Maryland. McComb was the 2014 National Teacher of the Year and the 2013 Maryland State Teacher of the Year.
---
States across the country have adopted new college- and career-ready standards, often aligned with the Common Core State Standards (CCSS), for students graduating from our public schools. In order for students to reach these goals, we must consider what teachers need to design the necessary learning experiences. Raising the bar for student learning requires us also to change our approach to teacher learning. To seek a system in which all secondary students, and particularly those who are struggling and/or who hail from historically underrepresented communities, graduate ready for college, career, and citizenship is a laudable end. But, if we are to take that pursuit seriously, we must consider what inputs and structures also must change to reach those standards.
The full answer considers childhood as a whole, with a renewed focus on early childhood interventions and supports for low-income families, in combination with deeper, inquiry-based, and personalized learning at school.  Executed well, this learning engages students on issues they value and allows the flexibility necessary to meet students where they are individually and build skills to meet and exceed standards. This is a challenging dynamic to achieve as teachers, but can become possible at scale when teachers have the time and trusted peers to problem-solve and adjust their instruction to be responsive to student needs.
Where We Are
Attention has rightfully been given to improving teacher preparation, but no single program of one to four years will fully prepare a teacher to continuously adapt and adjust to meet the needs of ever-changing groups of students, nor guarantee continued growth as a professional. On-going growth should, however, be a prime target for policymakers and administrators. The federal government gives local districts 1 billion dollars annually to spend on training, but only 29 percent of teachers are highly satisfied with current offerings and only 34 percent believe professional development has improved.
Too often, teacher learning is best described as "sit and get" (or maybe "spray and pray") sessions delivered by outsiders typically without the collaboration, revisiting, and feedback loop necessary to make lasting and sustaining improvements to instruction that result in increased student achievement. This model has not markedly improved practice.
Where We Need to Go
The great challenge in helping students, particularly struggling students, to improve outcomes is that each child has individual needs (and strengths) that vary continuously within a content area or set of skills. I have students who can compose flowing narratives but struggle to construct a logical argument. Others can logically argue, but lack the writing precision to integrate textual evidence effectively. And for each of these skills, students who fall across a spectrum of ability. With each group of students and each shift in instructional focus, there's an accompanying shift in each student's needs. No demographic, grade-level, or classroom of students offers uniform needs and challenges for teachers to meet.
In order for teachers to adjust instruction to best meet students' needs throughout each unit of instruction, we need the support of others to share their expertise, push our thinking, and provide feedback on practice and student work. This is why teachers desire professional learning that is responsive, sustained, relevant and actionable.
And this is why effective professional learning communities (PLCs) are so often sought after by administrators and teacher leaders. PLCs offer ongoing, collaborative, native solutions to improve instruction. But the reality many schools have realized over the last few years is that authentic professional learning communities are very difficult to achieve. Throwing teachers together, sometimes as rarely as once a month, without specific direction or support and calling that a "PLC," or hoping that some magic occurs, is both foolhardy and far too common. PLC implementation needs to follow principles of effective professional development within a culture and context that allows for effective implementation.
In practice, this requires not only time to meet and design rigorous learning experiences and assessments and to review student work samples and assessment results, but also time to observe each other's instruction. It means the role of outside consultants might change, if the luxury can be afforded, to visits throughout the year to help PLCs establish practices, troubleshoot challenges, and continuously improve processes within the learning community. Single-day presenters still may offer teachers outside inspiration, and visits from a coach may offer deeper one-on-one support. But by making teaching a team activity we can amplify those experiences, grow the team, and offer ongoing support. The focus on professional learning is no longer about a single tool or tactic, but in transforming the approach to learning and leveraging the virtuous cycle of teamwork.
How We Will Get There
The early work on the road to successful professional learning comes in building trust and finding time.
Particularly at the secondary level, teaching still is isolated. Rarely do teachers have the opportunity to watch one another teach or the time to look at the work from students in other classrooms. We must realize that the missing link in school reform is teacher collaboration.  Administrators can begin making those steps immediately even without policy shifts. Ask teachers to exchange the hour spent on a mandatory afterschool meeting for taking a learning walk to visit other classrooms. Rather than packing your next professional development day with required "sit and get", ask teachers to bring student work and facilitate leaders to help them work through a protocol of analysis. Offer a book study for the faculty. Share an intriguing article and offer a time for open discussion. After successful observation lessons, encourage teachers to open their classroom to their peers and offer coverage to other teachers interested in observing. Begin taking steps to build trust between teachers and a culture of continued learning and growth, so that the value in PLCs is evident prior to implementation.
There is an important role for policy, and that is in creating time for this work and ensuring teachers are supported. When looking at spending professional development dollars, states and districts would do well to consider using that money to buy time. Rather than investing in something like a traditional summer training of questionable value and reach, invest in time and trainers to facilitate this collaborative work. Offer grants to eager schools willing to lead the work. Mandate school climate surveys to identify where teachers feel they are being supported and where they are not. Have each teacher set individual professional learning goals for the year (as we do in Maryland) and then urge districts and schools to share best practices in differentiating teacher learning for personalized growth. We must grapple with this. If we truly want critical thinking and dynamic learning for every child, how will we design professional learning and planning time to make that possible?
We can help struggling students to meet higher standards if we recognize that they each have unique needs and that effectively meeting those needs require communities where teachers have the time and trusted support to craft responsive, effective instruction.
Sean McComb is an English and AVID teacher at Patapsco High School in Baltimore, Maryland and was the 2014 National Teacher of the Year. You can follow him on Twitter at @Mr_McComb.
Categories:
Uncategorized