The Daily Dish: Improving Literacy Skills for Struggling Students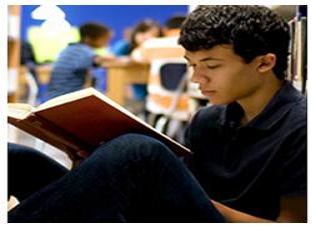 The Daily Dish digs deeper into one of the day's top news stories on K–12 education. Make sure to add High School Soup to your RSS feed for all the latest updates and follow the Alliance on Twitter at @All4Ed for more education news.
---
A student's ability to comprehend and communicate day to day curricula hinders greatly on his or her literacy skills. Fostering strong literacy skills for students is a continued effort of the National Adolescent Literacy Coalition (NALC). On Thursday, April 23, NALC is slated to host its spring forum on Literacy in Changing Times, an opportunity for those interested in discussing "new developments in research, practice, and policy to advance literacy for all adolescents."
The advancement of literacy for adolescents might benefit from advancing technology in the classroom. That's the consensus from the American Education Research Association's annual meeting, according to Education Week's Benjamin Herold. Herold writes this week about AERA research that calls digital devices, apps, and e-books in the classroom great ways to improve early literacy. Herold points to four topics researchers studied, including "Integrating an iPad App Into Literacy Instruction for Struggling Readers," that examine how these new reading technologies are being used in classrooms.
E-books and iPads are not the only things improving student literacy skills. With the Common Core Speaking and Listening Standards, teachers like Rod Powell have several English language arts literacy courses at their disposal to help enhance students' ability to comprehend the topics they learn and present them confidently to peers.
In the Alliance's latest Core of the Matter blog, Powell, a tenth-grade American history teacher at Mooresville High School in North Carolina, discusses how the Common Core Speaking and Listening Standards are helping his students find their own voices. He notes, however, that such a task can be difficult for students of color and economically disadvantaged students who might struggle with class discussions are speaking in front of groups. Mariana Haynes, senior fellow at the Alliance, backs this up by emphasizing in a recent blog, "Low reading achievement does not equally affect all students. More than a third of Hispanic and African American twelfth graders read below basic level."
Still, by teaching the Speaking and Listening Standards, Powell is working on doing away with those issues. He writes:
"Providing my students with a myriad opportunities to speak and present in different settings are experiences that will far transcend my history classroom. … Where others hear noise, I hear my sophomores finding their voices. That is a valuable life lesson this teacher can fully get behind."