The Daily Dish: Improving Graduation Rates under ESEA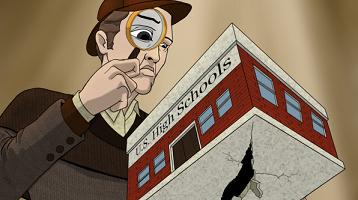 The Daily Dish digs deeper into one of the day's top news stories on K–12 education. Make sure to add High School Soup to your RSS feed for all the latest updates and follow the Alliance on Twitter at @All4Ed for more education news.
---
With Tuesday's looming discussion of the U.S. Senate's bipartisan bill to rewrite the Elementary and Secondary Education Act (ESEA), some are concerned with what should be done to improve graduation rates in public schools and what may not be done once Congress takes up the governing education law.
In a recent blog post, Bob Wise, president of the Alliance for Excellent Education and former governor of West Virginia asserts that the Senate's bill ignores recent gains in high school graduation rates and lacks the focus the subject needs for continued improvements. Though the 2008 mandated reporting by schools led to an historical 81 percent graduation rate, Wise says there is still much to be done in the way of high school graduation reform.
Below the Surface: Solving the Hidden Graduation Rate Crisis, a new report from the Alliance, points out that some 1,200 high schools are graduating less than two-thirds of their students. These schools account for some 1.1 million students, the majority of whom are students of color and low income students. The report, much like Wise's post, emphasizes the need for graduation rates to be a forefront concern for Congress.
The Iowa State Senate is considering graduation in its legislative talks. A bill introduced late last week  would prohibit students from quitting high school before the age of 18. The bill has strong support from the Iowa Senate Education Committee Democrats, including chairman Herman Quirmbach, D-Ames, who asked his fellow committee members during session to consider how much of a chance a 16-year-old dropout has of succeeding.
As the growing graduation rates show, states and schools low performance and graduation rates are capable of turnaround. U.S. & World Report's High School Notes outlined three ways in which even the lowest performing schools can make dramatic improvements in the number of students earning diplomas. "Encouraging students to take ownership of their education; Making teachers' professional development opportunities a priority; and getting communities and families involved are essential to improving graduation rates, according to US News. But, some might argue for one more turnaround tip: a call on Congress to focus on these lowest-performing high schools as it works to rewrite ESEA.