The Daily Dish: Being #FutureReady with Technology in the Classroom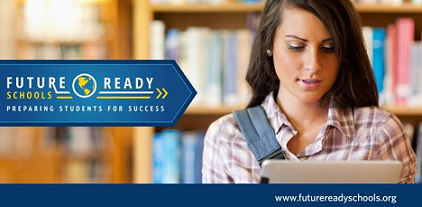 The Daily Dish digs deeper into one of the day's top news stories on K–12 education. Make sure to add High School Soup to your RSS feed for all the latest updates and follow the Alliance on Twitter at @All4Ed for more education news.
---
If you're looking for a wrap-up of the Senate education committee's work on the rewrite of No Child Left Behind from yesterday, check out today's five-minute Federal Flash: https://t.co/eKhVFjITJi.
Technology takes over as our "main course" for today. Tom Murray, state and district digital learning director for the Alliance for Excellent Education, spoke with Scholastic's Rob Berger about the concerns school administrators have moving forward in a school environment that is becoming more and more digitally driven, offering up solutions to tackle the 'digital divide.' "When transitioning through the digital conversion, it's imperative for school leaders to have a systemic plan of implementation," said Murray.
Murray, along with more than 150 superintendents took part in the fourth of 13 Future Ready Summits in Phoenix, Arizona April 13 and 14 focusing on helping school districts develop the human and technological capacity needed to personalize learning. Hosted by the Dysart Unified School District in a state that is 'emerging as a power-player in education technology,' the event saw many school leaders take to Twitter to share what they had learned and would be taking back to their individual districts to improve the learning experience. Grant Smith, a technology teacher from Avondale, Arizona, tweeted during the second day of the summit:
What a great #FutureReady summit in Phoenix! Learned a ton, met great educators, and made many goals for the future.
Much in the way Future Ready Summits are aimed at district leaders and maximizing digital learning, a new initiative out of Greenville County Schools in Greenville, South Carolina aims to update and revitalize all of its professional development programs for teachers as the district begins its five year technology plan.
As districts like Greenville are preparing their teacher for a digital future, from devices to digital citizenship, there's much to be considered. eSchoolNews takes a look at a new book on safe digital connections for students, discussing top strategies for "operating in the information age."  Those strategies include taking a collaborative approach to student safety and reading through software agreements.
But what about devices? According to an article from THE Journal, Chromebooks have surpassed iPads as the device of choice in the classroom, due to price and practicality.
Whether your district is just starting out or is a leader when it comes to technology in the classroom, Murray and others would agree – don't be afraid to have fun with digital learning. Gaming is a great way to build personalized learning, according to Cameron Pipkin, former teacher and senior marketing strategist at School Improvement Network. Elementary principal Rob Furman advocates for using apps in education in a blog for The Huffington Post, writing: Technology should be used to give students an experience or insight that they would otherwise not be able to accomplish without the use of technology.
Future Ready Summits continue next week in Providence, Rhode Island. For more information, check out: futurereadyschools.org