The Daily Dish: 103-Year-Old Women Expresses the Importance of Earning a High School Degree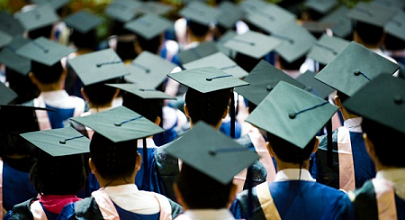 The Daily Dish digs deeper into one of the day's top news stories on K–12 education. Make sure to add High School Soup to your RSS feed for all the latest updates and follow the Alliance on Twitter at @All4Ed for more education news.
---
You're never too old to be a high school graduate. This week, a 103-year-old woman from Wisconsin proved the importance of earning a degree when she received her diploma, 87 years after dropping out of school.
Marie Hunt would have walked with her class in Spring Green, Wisconsin in 1928, but was forced to drop out when she could not find a reliable way to commute to her classes, according to an article from TIME Magazine. Hunt was awarded an honorary high school degree by River Valley High School, the very school she would have attended all those years ago.
Hunt isn't the only nontraditional student 'walking across the stage' of late. Vietnam veteran Terry Schutte can now call himself part of the Hudson High School class of 1966 after the Michigan school awarded him a degree. The 69-year-old attend the school for three years until he was called to service in 1965, never receiving his diploma. In an interview with The Daily Telegram, Schutte expressed his joy, saying:
"It's a bit overwhelming to finally get it. I am a great-grandpa, 69 years old and a new graduate from high school. How many people get to say that?"
What's better than one degree? How about two. Sisters Julie and Mikayla Lancieri of Port St Lucie, Florida are slated to earn associate degrees on top of their high school diplomas. After being home schooled by their mother, the sisters enrolled in Indian River State College, studying music. Mikayla, who is only 15, 'still can't believe' she and her 18-year-old sister have accomplished so much so quickly. On top of their upcoming degrees, the sisters have earned merit scholarships from schools such as the University of Miami and Stetson University.
These stories provide insight to the importance of every child – no matter how old – earning a high school diploma. Unfortunately, there is still much to be done by states, schools, and school districts to ensure every child receives that opportunity. According to a recent report by the Alliance for Excellent Education, more than 1,200 high schools nationwide graduate less than two-thirds the 1.1 million students they enroll. Because of this, the report calls on Congress to consider these lowest-performing high schools as it works to rewrite the Elementary and Secondary Education Act (ESEA). The Senate education committee is expected to vote on the proposed rewrite of ESEA later this afternoon.