The Looking Glass: Virtual Learning For Teachers and Students

February 02, 2014 03:26 pm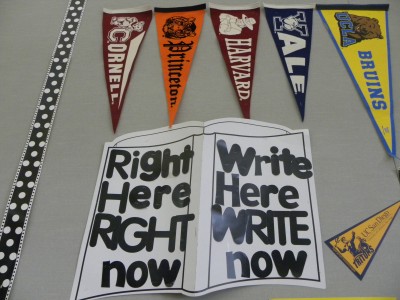 This guest blog post comes from Brad Clark, a 4th and 5th grade teacher of English language arts and social sciences at Simmons Elementary in Woodford County, Kentucky. 
I am fortunate enough to work with amazing teachers across the nation through the Center for Teaching Quality (CTQ) and the Hope Street Group, two organizations that are transforming our definitions of teacher leadership. I met CTQ through National Board Certified Teacher Lauren Hill, a parent of a student in my class.
Lauren's encouragement has been instrumental in facilitating my teacher voice as I've gotten involved with the CTQ Collaboratory, a virtual community for teacher leaders. So, with Digital Learning Day approaching, I asked Lauren to share her perspective on how teachers are leading efforts to help students learn via digital tools and experiences. I also wondered, how are teachers using these resources to learn more about the craft of teaching?
Lauren had plenty of wisdom to share: "My guiding principle is to never allow the technology to lead the lesson, but to use technology to support the original goals. Technology can make many tasks visceral—activating many more of students' senses than do our usual tools. It can transform our classrooms into multimedia, immersive experiences."
She pointed out that technology can also increase authenticity in the classroom: "Finally, our students can write for a real audience! For example, my students use a Google blog as a writing workshop and gallery. They write and then their friends, parents, (and anyone) can read and respond to their work. I moderate the comments to prevent spam and hurtful feedback."
Lauren added, "The blog has helped students feel that their writing matters, and it has built a strong sense of community among the 110 students I teach throughout the day. What is also completely cool about this is that blogging is taking its own place in the literate world. My students will leave high school already knowing their way around this powerful tool."
By exploring digital venues for her students to articulate their understanding, Lauren intentionally engages them in mastering content, concepts, and skills within her discipline. And she does it using the 21st-century equivalent of the hammer and nails: a free blogging platform.
The immersive experience she outlines operates on the same principles that undergirded the craftsmen guilds of 18th-century Europe. She has formed a collaborative culture that focuses on mastery of craft while exposing students to new tools. Her students are learning to trade in a 21st-century currency that will serve them well after formal learning has come to an end.
Of course, blogging may not be a communications form that's here to stay—and without a doubt, the technological tools will evolve over time—but Lauren's students will be able to follow along.
Meanwhile, Lauren explains, virtual communities like CTQ's Collaboratory can promote the cross-pollination of ideas and the spread of expertise among teachers themselves:
"Today, on the Collaboratory, I read a number of responses about the definition of student-centered learning—an idea I was sure I already knew all there was to know about. After ten minutes, I'd enriched my understanding and found even more questions to ask, leading me to an even deeper awareness of student-centered possibilities in my classroom."
I think Lauren's onto something. Whatever behaviors we want our students to demonstrate, we must first model. If we want our students to be lifelong learners who demonstrate a growth mindset, we have to reflect those dispositions daily. We must continue to grow as learners so that we can grow learners. If we want our students to be able to use a tool to accomplish a goal, we must understand how those tools can advance our own goals.
"Every day we ask students to write in order to more fully engage with our content. Writing helps us to more deeply engage with our content, too," says Lauren. "As teachers, we can also use writing as tool to learn more as professionals, by posting discussions, comments, blogs, and other messages in our virtual communities. Communities like the Collaboratory offer us a gift: we can expand our own learning exponentially to benefit our students."
To truly impart our love for learning to our students and to prepare them to meet the challenges of an unknowable future, we must expose them to the tools of the 21st century. As importantly, we must help them use those tools to develop their own voices and confidence as communicators—and model the resourcefulness and adaptability that will serve them well. Only then can we claim they are ready for college and careers.

Brad Clark teaches 4th & 5th grade English language arts and social sciences at Simmons Elementary in Woodford County, Ky. He is a Hope Street Group State Teacher Fellow, the Director of Education for Idea Festival Lexington, and a member of the CTQ Collaboratory, a free virtual community for teachers and all who support their leadership.