The Importance of High School Mentors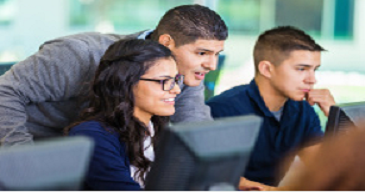 In a recent event celebrating the 50th anniversary of the Elementary and Secondary Education Act (ESEA), U.S. Secretary of Education Arne Duncan asked high school students of color what the U.S. Department of Education (ED) could do to help students graduate from high school. One African-American female student explained that the lack of mentoring programs in high schools is a huge problem.
She said, "I think that all high schools should have a mentoring program. I have a mentor and she helped me stay on track. A lot of kids don't have motivation or have someone to push them, they can't look up to anybody because they are on the same level as someone else."
As an immigrant student who grew up in a community that did not adhere to the concept of a postsecondary education, I know firsthand the importance of a good mentor. But the lack of academic advisors and mentors is not a problem solely facing undocumented and immigrant high school students. It's a problem faced across the country by students of different backgrounds regardless of their legal status.
Growing up, college wasn't something I envisioned for myself. It was a foreign idea that existed but seemed impossible for an undocumented immigrant. My parents came to this country for the main purpose of giving their children a better life, more specifically the best education for their children. While it was easier for them to be involved in my education during my early years, it became more of a challenge during high school.
My parents did not understand the importance of extracurricular activities, sports, and community service projects for the purpose of pursuing higher education, arguing instead that I should have an evening job like other high school Latinos students in my community. My experience is not unique. Students who come from Latino and immigrant families often encounter the same issue, choosing between high school studies and an after school job. Although the Latino high school graduation rate has increased from 71 percent to 75.2 percent between 2011 and 2013 and 33.8 percent of Latinos now enroll in a postsecondary institution, 74 percent of 16 to 25 year olds continue to drop out and do so in order to financially support their family.
My freshman English teacher was instrumental in educating me about higher education. As a self-appointed mentor, she drove me to challenge myself in extracurricular activities and community service projects. In school, I took physics, pre-calculus, advanced chemistry, and a university course in Spanish. Had I been given this advice my senior year in high school, I wouldn't have stood out amongst the thousands of applicants that a university reviews. After graduating high school with 12 scholarships and a college admission, my parents began to understand that their perspective of my choices may have been incorrect.
My English teacher's advice helped me with my college application, but it was during my lunch breaks that my friends' discussions taught me about the college admission process and the Preliminary Scholastic Assessment Test (PSAT) course. My parents did not attend college, nor did they know anyone in their community who did so. Therefore, I grew up in a community that had no comprehension of the PSAT, the Scholastic Assessment Test (SAT), or the college application process. Speaking to a high school friend recently that went onto a private university, I mentioned that listening to her and our friends speak about their parents' pressure to apply to colleges and scholarships during our lunch breaks forewarned me as to when I needed to apply to colleges and scholarships.
The US Department of Education has tried resolving the issue of mentoring by creating eight Federal TRIO programs. Two programs, Upward Bound and Talent Search, are targeted towards economically disadvantaged high school students, first-generation college students, and students with disabilities. The additional six programs are targeted towards college students, adults, and training programs for educators.
The U.S. Department of Education reports that out of the 14.7 million students that were enrolled in grades 9-12 in 2013, only 758,352 students participated in one of the eight TRIO programs. However, out of all individuals that participated in a TRIO program in 2013 only 59,143 high school students participated in Upward Bound and 299,683 students participated in Talent Search, which means that less than 2.4% of high school students in the U.S. received mentorship or guidance in graduating from high school or enrolling in a postsecondary institution under TRIO. For example, my graduating high school class consisted of more than 300 students and one mentor.
I know many young peoples' futures could be drastically different if provided with a mentor. For me, having the additional support of my English teacher and my friend helped put me in a strong position to apply for the colleges of my choosing. Having two individuals explain to me the expectations set by postsecondary institutions helped me create a personal checklist of deadlines and tasks during my transition from the beginning of high school to my first day at a postsecondary institution. I consider myself fortunate to have had a teacher and friend who mentored me through high school and onto college.
Francisco Jaimes is the Policy and Advocacy Intern for the Alliance for Excellent Education.
Categories:
Uncategorized