The Evidence Is In: Deeper Learning Students are Out-performing Peers

September 25, 2014 01:47 pm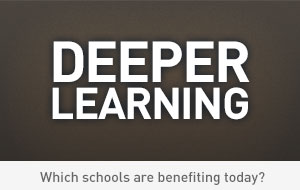 For more than four years, the Alliance for Excellent Education has been developing policies to enable more schools to foster a broad set of competencies for all students. Like a number of organizations, we believed that the complex global economy made it imperative for all young people to develop deep content knowledge and to be able to use that knowledge to solve problems and think critically, to communicate effectively, to collaborate with peers, to learn how to learn, and to develop academic mindsets. Working with the William and Flora Hewlett Foundation, we called these competencies "deeper learning."
We were persuaded to take on this policy challenge by ample research on the changing workplace, notably by Richard Murnane and Frank Levy, and by the impressive examples of schools in Hewlett's Deeper Learning Community of Practice. But we lacked concrete evidence that deeper learning would in fact produce better outcomes for young people, especially low-income children and children of color.
The Hewlett Foundation, to their credit, recognized this gap as well. So they commissioned a study by the American Institutes of Research, a highly reputable organization. That study was released this week.
In their study, the researchers closely examined a subset of schools in the Community of Practice, and compared them with demographically similar schools from the same geographic locations. The researchers looked at teacher assignments, surveyed students and teachers, and examined graduation rates, college-going rates, scores on state tests, and scores on the OECD Test for Schools, a test modeled on the PISA exam that measures students' critical-thinking and problem-solving abilities.
The evidence is powerful. The AIR study showed that the Deeper Learning schools had significantly higher on-time graduation rates—9 percentage points higher—as well as higher test scores on both state tests and the OECD test. And while college-going rates were similar, students in the Deeper Learning schools were more likely to attend four-year colleges and more selective colleges.
Most impressively, these gains held for all students. Regardless of their background or prior test scores, all students showed higher test scores and graduation rates. That means that our hypothesis that deeper learning is for all students, not just high achievers, held true.
The equity finding is particularly important because the study did not compare Deeper Learning schools to "shallow learning" schools. As the analysis of teacher assignments found, even the comparison schools provided students with opportunities to engage in complex projects and deeper understanding. But the Deeper Learning schools tended to do so more often, and with more students.
The momentum for deeper learning is building. The Common Core State Standards, which more than forty states have adopted, expect students to be able to use their knowledge to think critically and solve problems, and to communicate in writing and speaking. And the assessments developed to measure students against the standards—which will be administered this year in half the states—are expected to measure these competencies much more extensively than previous state tests.
However, the movement continues to face resistance from some educators and policy makers who consider these competencies "fads" that distract schools from basic skills, or who believe that, while the deeper learning competencies might be nice, students from disadvantaged backgrounds should stick to rote learning. The AIR study should put those notions to rest. All educators and policy makers should pore over the findings.
Robert Rothman is a senior fellow at the Alliance for Excellent Education.
Categories:
Uncategorized