The Daily Dish: White House Summit Honors College Students Who Are "Beating the Odds"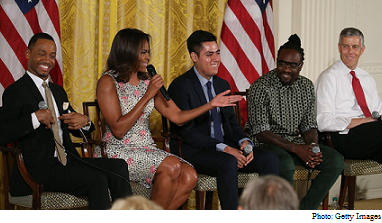 The Daily Dish digs deeper into one of the day's top news stories on K–12 education. Make sure to add High School Soup to your RSS feed for all the latest updates and follow the Alliance on Twitter at @All4Ed for more education news.
---
For many students from low-income or traditionally underserved backgrounds, making it to college can be a great challenge. But First Lady Michelle Obama wants those students to know that "Beating the Odds" and achieving education outcomes beyond high school is possible in the face of even the toughest adversity.
On Thursday, Obama hosted some 130 students at the White House as part of her Reach Higher Beating the Odds Summit. As The Washington Post's Will Greenberg writes, "First lady Michelle Obama's "Beating the Odds" summit aims to bring together college-bound students from all walks of life so they can focus on expanding educational resources for people like them."
"I was blessed to have parents who didn't go to college, but they knew that an investment in education was the best gift they could give me," Obama said during her address to students. "And when I realized that with a little hard work and some determination that I could compete and succeed at some of the top schools in the country — I think about the thousands, the millions of kids just like me who don't get that encouragement but have the same skills and ability."
The summit was part of Obama's ongoing Reach Higher initiative, aimed at inspiring all students to complete their education past high school. Greenberg explains that Thursday's summit featured students who have persevered through great challenges to succeed in college. One such student was Isaac Guerrero, who grew up in a low-income area of New York City with his family of seven. Now Guerrero represents a first-generation student for his family, with plans to attend the Massachusetts Institute of Technology in Cambridge this fall.
For students who set their sights on becoming first generation students like Guerrero, an introduction to the thousands of courses and classes a college or university offers can be daunting. But, as The Hechinger Report's Jon Marcus explains, more colleges are providing advisors for students who might need help focusing on and choosing a career path. Marcus points to Malcolm X College in Chicago, Illinois that provides potential and incoming students with advisors that help them map out a curriculum track. Marcus writes, "It's a dumbfoundingly simple solution to a problem that derails countless students who take courses they don't need and flounder through college, wasting time and money and never graduating — or, if they do, failing to rack up the necessary prerequisites go on to further educations…"
Despite programs like that at Malcolm X College, reaching and achieving in college can still be tough for disadvantaged students. A new study this week from ACT, Inc. reports that low-income students continue to lag on college readiness measures. The Condition of College and Career Readiness 2014: Students From Low-Income Families finds that just 11 percent of low-income high school graduates who took the ACT in 2014 met all four of ACT's benchmarks for achievement.
U.S. Secretary of Education Arne Duncan, also in attendance for the Beating the Odds summit, noted that in order for these underserved and low-income students to endure and ultimately succeed through the most difficult upbringing, adults must play an active role. "It's up to us as adults to provide more opportunities, better classes, better mentoring, more after-school programming, more summer programs, summer jobs to help more young people fulfill that extraordinary potential," said Duncan.