The Daily Dish: U.S. Senate Continues Its Debate on NCLB Rewrite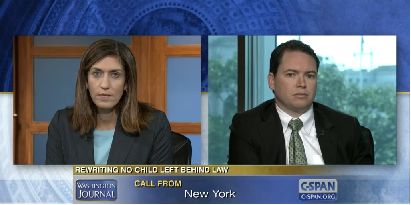 The Daily Dish digs deeper into one of the day's top news stories on K–12 education. Make sure to add High School Soup to your RSS feed for all the latest updates and follow the Alliance on Twitter at @All4Ed for more education news.
---
This afternoon, U.S. Senate is slated to continue its debate of the Every Child Achieves Act (ECAA), the Senate's proposal to rewrite the Elementary and Secondary Education Act (ESEA) currently known as No Child Left Behind (NCLB).
Politics K-12's Lauren Camera said Monday afternoon's convening will likely begin with two largely agreed upon amendments – One, from Sen. Orrin Hatch (R-UT), which would establish a committee on student data privacy policies; and another from Sens. Tim Kaine (D-VA) and Rob Portman (R-OH), that allows, but does not require, states to include indicators in state accountability systems that give schools recognition for preparing students for postsecondary education and the workforce. Camera said both amendments are expected to pass.
"As the week progresses, keep an eye out for additional amendments from Democrats that would amp up accountability for disadvantaged students, including proposals that focus on identifying poorly performing schools," Camera writes.
During an appearance on C-SPAN, Phillip Lovell, vice president of policy and advocacy for comprehensive high school reform at the Alliance for Excellent Education, said ultimately the lack of accountability measures in both proposals will need to be addressed. NCLB, he asserts, was considered too prescriptive on the actions that would take place if states and schools failed to meet requirements of achievement. But, the problem faced now is that the pendulum has swung too far in the opposite direction – with the two proposals being extremely loose on what the federal government requires to the point of having very limited safeguards for the nation's low-income kids and students of color.
And while the House bill leaves everything up to states, Lovell explained that the Senate bill provides a slightly more specific accountability structure, though the measures are still very much so up to states which schools will be identified for improvement.
"That's going to be a major sticking point this week," said Lovell.
Last week the Senate adopted and rejected several amendments during three days of proceedings, including Sen. Ron Wyden's (D-OR) provision to make more high schools eligible for federal turnaround grants in an attempt to include more safeguards for traditionally underserved students in the potential NCLB rewrite.
This week will likely result in more bipartisan voting in the Senate in comparison to last week's House vote. Lovell explained support from both Republicans and Democrats can be expected, though the bill without the appropriate accountability measures is "far from perfect." The U.S. House of Representatives passed its proposed rewrite of NCLB last Wednesday. The Student Success Act passed with a partisan vote of 218-213 with 25 Republicans voting against the bill which aims to scale back the federal government's involvement in public education.
In the Republican Weekly Address on YouTube, Senate Health, Education, Labor, and Pensions (HELP) Committee Chairman Lamar Alexander (R-TN) pressed for the passage of an education reform bill that will fix the flaws of NCLB, saying the support in the Senate is there for the fix.
"That consensus is this: Continue the law's important measurements of academic progress of students but restore to states, school districts, classroom teachers and parents the responsibility for deciding what to do about improving student achievement," Alexander said during the address.
But the Senate bill itself requires some "fixes," according to Lovell – in the form of critical measures to support traditionally underserved students. "The challenge I think will be whether or not Congress can come up with a 'middle-road approach' that provides states and districts the flexibility that they need to improve schools while also making sure that something happens when schools are low performing," he said.
For a recap of last week's activity in the House and Senate to rewrite No Child Left Behind, check out the Alliance's Federal Flash: https://youtu.be/Tr6VzolMPDQ
For more on the Senate's proposal to rewrite No Child Left Behind, visit all4ed.org/esea