The Daily Dish: U.S. On Track to Graduate 90 Percent of HS Students by 2020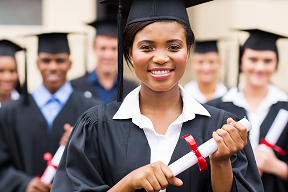 The Daily Dish digs deeper into one of the day's top news stories on K–12 education. Make sure to add High School Soup to your RSS feed for all the latest updates and follow the Alliance on Twitter at @All4Ed for more education news.
---
Graduation rates across the United States continue to climb, making the goal of graduating 90 percent of students by 2020 obtainable according to a new report released today by America's Promise Alliance in conjunction with Civic Enterprises, Everyone Graduates Center, and the Alliance for Excellent Education.
The 2015 Building a Grad Nation report notes that graduation rates reached a record high in 2013, at 81.4 percent. NBC News points out the increases in the number of students color earning high school diplomas as a huge contribution significantly to the growth. Graduation rate among African American students increased from 67 percent in 2011 to 70.7 percent in 2013, while Latino students – the largest growing student population – improved to 75.2 percent in 2013.
These increases can attributed to a decline in the number of 'dropout factories,' or schools who produce low graduation rates while also enrolling mostly students of color. As a recent Alliance report emphasizes and Grad Nation acknowledges there are still roughly 1,200 of these schools severing some 1.5 million that are still in need of improvement.
In order to reach 90 percent by 2020, Grad Nation states the class of 2020 will need to include 310,000 more graduates than the class of 2013. Many would agree with the report's assertion that this goal hinders on more states closing the gaps for low income students, students of color, and students with disabilities.
Education Week's Jessica Brown writes: "It's not an insurmountable task. But states must continue to close the achievement gap between minority and low-income students and their peers."
Graduation rates among the states vary, ranging from 90 percent in Iowa to 69 percent in Oregon. In addition, rates for low-income students have increased over the past three years, but there remains a 15 percent gap between those students and their middle- and high-income peers. These two statistics are evident across several states, but as The Huffington Post reports, a few states have defied this trend. The Post's Rebecca Klein writes:
"Some states bucked this gap, showing that it's not inevitable that well-off students will outperform those from poor families. In Kentucky, the graduation rate gap between low-income and affluent students was only 1.4 percentage points. In Texas, it was 5.5 percentage points."
U.S. Secretary of Education Arne Duncan said in a statement that the increase in high school graduates is in part due to the ongoing work of educators, students, parents and community partners. He adds:
"While we should be encouraged by projections like the one in this year's Grad Nation report, we know that more hard work remains to truly prepare all—not just some—students for success in college, careers and life."