The Daily Dish: 'Teachers Need Support in the Profession'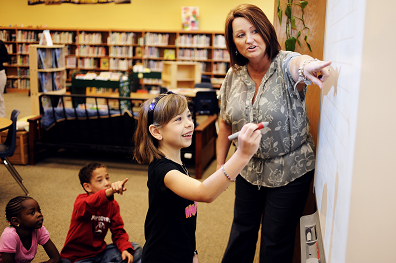 The Daily Dish digs deeper into one of the day's top news stories on K–12 education. Make sure to add High School Soup to your RSS feed for all the latest updates and follow the Alliance on Twitter at @All4Ed for more education news.
---
Despite recent statistics that indicate a lower attrition rate in the profession, some schools and districts still struggle to fill teaching positions.
In a recent article from the Northwest Herald, Chelsea McDougall examines how one school district in Illinois struggles to fill positions for some of its more challenging and alternative courses. Woodstock Community Unit School District 200 in Illinois is just one district in the state feeling the effects of declining enrollment in college and university education programs. Woodstock specifically feels the shortage in specialty positions such as its Chinese language program and sciences, mathematics, and advanced placement courses.
McDougall notes that there are varying reasons for teacher shortages, including "political landscape." On the Path to Equity: Improving the Effectiveness of Beginning Teachers,  a 2014 report from the Alliance for Excellent Education, cited 'isolated working conditions, poor student discipline, low salaries and a lack of collective teacher influence over school wide decisions' as potential factors that might turn teachers away from the profession.
An editorial in the Kokomo Tribune in Kokomo, Indiana cite one more factor: the thankless nature of teaching. It says the profession is one such that can overwhelm new teachers, which "costs all of us dearly in a myriad of ways." The editorial board concludes: "Teachers need our support to do the one thing they desperately want to do: their jobs."
A recent survey from the American Federation of Teachers polling more than 30,000 educators found the majority of respondents reported high levels of stress and low levels of autonomy. Still those same teachers said they are not necessarily interested in leaving the field. A recent survey conducted by the the University Of Phoenix College Of Education and the Harris Poll echoes this sentiment. The survey of 1,000 elementary, middle, and high school teachers found 88 percent were satisfied with their decision to become a teacher and roughly 68 percent would recommend the field to others.
Although some districts like Woodstock might be experiencing a decline in specialty teachers interested in entering the field, things are looking up for the rate at which new teachers leave the profession. Public School Teacher Attrition and Mobility in the First Five Years: Results From the First Through Fifth Waves of the 2007–08 Beginning Teacher Longitudinal Study, a report from the National Center for Education Statistic's Institute of Education Sciences (IES), finds that just 17 percent of new teachers left their jobs within the first five years—a much lower attrition rate than the previously believed rate of nearly 50 percent.