The Daily Dish: 'Teachers Know Best' Report Finds Teachers Want More From Digital Tools and Data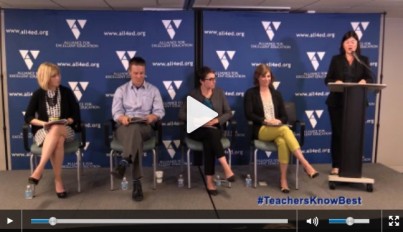 The Daily Dish digs deeper into one of the day's top news stories on K–12 education. Make sure to add High School Soup to your RSS feed for all the latest updates and follow the Alliance on Twitter at @All4Ed for more education news.
---
As schools and school districts across the country continue the progression into a digital age of learning, the importance of having useful and adequate digital tools for the classroom grows. When it comes to making sure these technologies support students in the classroom – 'Teachers Know Best.'
That was the sentiment from educators and leaders who took part in a June 3 event hosted by the Alliance for Excellent Education and the Bill & Melinda Gates Foundation. The event featured the release of Teachers Know Best: Making Data Work for Teachers and Students, a new report about how teachers use digital instructional tools and data to support student learning. The report presents the findings from a survey of more than 4,600 teachers about the challenges they face when using digital instructional tools and provides recommendations about how to support teachers to effectively use data to personalize instruction.
Teachers Know Best finds that while 93 percent of teachers surveyed regularly use some form of digital tool to guide instruction, 67 percent said they are not fully satisfied with the effectiveness of the tools when working with the data those tools provide.
During her presentation at Thursday's event, Vicki Phillips, director of education, college ready for the Bill & Melinda Gates Foundation, stated the goal of the report is to bring teacher perspective to the surface for product developers who create digital tools for the classroom. Phillips wrote in a post for the Bill & Melinda Gates Foundation's Impatient Optimists blog that "By listening to teachers and identifying existing gaps in the market, we can help product developers create new digital instructional tools—or improve existing ones—to better meet the needs of teachers and students."
Nicole Cerra, co-founder and director of curriculum and instruction for Design Tech High School in Millbrae, California said her school collects data weekly, spending Friday afternoons analyzing it. Still, Cerra said she feels there is room for improvement in that process, namely time they have to commit it. In fact, the Gates Foundation report named time as the biggest challenge teachers' face when using digital tools.
"Teachers need more time to work together and look at the data and make decisions about how to respond," said Cerra. "If you aren't given that time within your school day, it doesn't happen." To that point, Cerra suggested a need for more fluidity from the creator to classroom to ensure tools are as effective as possible.
If schools and districts are taking the time to collect data, they must have a plan in mind for how to use it, said Eric Westendorf, CEO and co-founder of LearnZillion. Westendorf asserted that "data's really only as valuable as the next step you take." He added that "If schools and teachers are taking the time to collect data, we need to know exactly what we're going to do with it. Otherwise – why collect it?"
As important as the relationship between what teachers need and what creators of digital instructional tools provide may be, panelists agreed another relationship was of equal importance.
"The connection between teachers and students is the centerpiece of school success," said Phillips. "Technology can strengthen that bond between students and teachers, especially when it enables learning that is personalized to students' individual needs, skills, and interests. But to be effective, we need to listen closely to the needs of teachers and engage them in the design of technology—because teachers are the experts on what works in the classroom."
To watch the archived video for the Teachers Know Best: Making Data Work for Teachers and Students webinar event, visit https://all4ed.org/webinar-event/jun-3-2015/.
For more information on the Teachers Know Best report, visit http://www.teachersknowbest.org/.