The Daily Dish: Teacher Appreciation Week Rolls On (#ThankATeacher)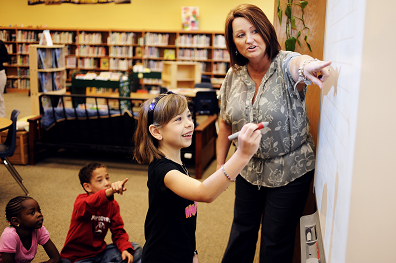 The Daily Dish digs deeper into one of the day's top news stories on K–12 education. Make sure to add High School Soup to your RSS feed for all the latest updates and follow the Alliance on Twitter at @All4Ed for more education news.
---
This week, the nation is giving thanks to its educators. Across the internet, thousands of people have participated in Teacher Appreciation Week, when everyone is asked to take the time to thank the educator that has impacted his or her life as a student, parent, or community member.
Still, even as the president expresses how a teacher has positively impacted his life, a new poll finds many Americans feel more could be done to show appreciation for those in the profession.
In a poll conducted by The Huffington Post and YouGov, the majority of 1,000 participants surveyed said they feel teachers are generally underpaid and underappreciated in their communities. As the Post's Rebecca Klein writes: "The survey results suggest most Americans think teachers deserve a week dedicated to appreciating them, if only because this group does not get enough respect the other 51 weeks of the year."
While 45 percent of those surveyed said they would rate the public school teachers in their community as 'good,' 52 percent said those same teachers are underappreciated and only 26 percent said teachers are treated just right.
Teachers may not be 'celebrated like athletes or movie stars,' the way some feel they should be, but that does not mean they would discourage others from taking on the job. According to a new survey from the University Of Phoenix College Of Education and the Harris Poll, a majority of teachers would encourage others to join the profession to experience one simple pleasure: Job satisfaction. 88 percent of the 1,000 elementary, middle, and high school teachers surveyed cited job satisfaction is their primary reason to continue in the field.
Of the respondents, 69 percent indicated they became teachers because they enjoy working with children while 65 percent said they had a desire to make a difference in children's lives.
It is those teachers that many have taken the time to thank this week. As First Lady Michelle Obama tweeted Monday:
At a time when more and more jobs require a good education, a teacher's work couldn't be more important. #TeacherAppreciationWeek

— The First Lady (@FLOTUS) May 4, 2015
Teacher appreciation week runs from May 4-8. People are encouraged to use the hashtag, #ThankATeacher, to share their stories.