The Daily Dish: Supporting the Common Core State Standards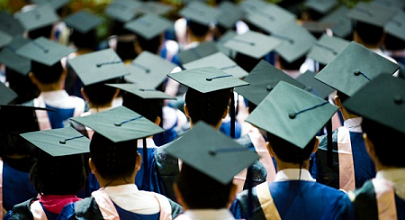 The Daily Dish digs deeper into one of the day's top news stories on K–12 education. Make sure to add High School Soup to your RSS feed for all the latest updates and follow the Alliance on Twitter at @All4Ed for more education news.
---
The Common Core State Standards have been adopted and implemented by more than forty states and the District of Columbia. Opinions, some in opposition, of the English language arts and math standards are everywhere, but support for the standards from teachers, students, and parents continues. As Jayne Ellspermann, principal of West Port High School in Ocala, Florida, put it in the Hechinger Report's Core Debate: "I support the Common Core because it challenges our students to think."
Parental support, Ellsperman wrote, is key to successfully implementing the standards.
A new report from the Center for American Progress (CAP) notes that teacher leadership is equally as valuable. CAP held a conversation Tuesday on the importance of teacher leadership when successfully implementing the standards. The American Federation of Teachers tweeted during the live chat:
Teachers must lead on implementation b/c they're the ones who make the standards come to life in the classroom #teacherleaders #CommonCore
But what was once considered to be an academic endeavor for K-12 teachers, administrators, and parents is slowly becoming something higher education officials are keeping an eye on. Nearly 200 Colleges and Universities across several states have taken a stance on the Common Core of late, moving to support the college-and-career ready standards and its aligned assessments.
According to a Tuesday article from Inside Higher Ed's Ashley A. Smith, ten colleges in Hawaii, twenty-four in Oregon, forty-nine in Washington, and six in South Dakota use the Smarter Balanced assessment as a placement exam. Smith writes that more and more institutions are considering the value of those assessment tests and the standards that come along with them – accepting Smarter Balanced and Partnership for Assessment of Readiness for College and Careers (PARCC) scores "in lieu of a separate placement exam."
In California, more than 100 colleges use the common core assessment as a placement exam. As an EdSource article points out, the state is well on its way to having some 3.2 million students take the online tests.
Some would argue that the basis of support for the common core is the access to more rigorous and meaningful curriculum it offers students. In the latest Core of the Matter blog, Rod Powell, a tenth-grade American History teacher at Mooresville High School in Mooresville, North Carolina, discusses how the Common Core Speaking and Listening Standards are helping his most struggling students as they work to build communication skills that will prove valuable beyond high school.
Project-Based Learning in California has hit its stride thanks to the Common Core. As EdSource's Katherine Ellison and Louis Freedberg note, the standards "explicit expectations that students learn how to work together, acquire skills to solve real-world problems, and persist in doing so" also happen to be the "core components" of this collaborative learning model, providing more reason to support their inclusion in the classroom.