The Daily Dish: Sixth #FutureReady Summit Wraps Up in St. Louis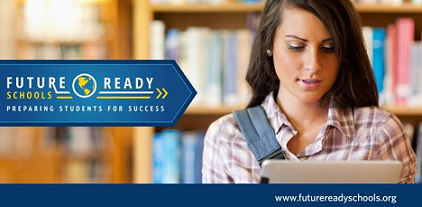 The Daily Dish digs deeper into one of the day's top news stories on K–12 education. Make sure to add High School Soup to your RSS feed for all the latest updates and follow the Alliance on Twitter at @All4Ed for more education news.
---
During the sixth of thirteen Future Ready regional summits Wednesday, Dr. Tiffany Anderson hit the nail on the head for many in attendance when she said she believes 'relationships, pedagogy, and curriculum' can help even the most struggling schools and students achieve with technology. Speaking to an audience of more than thirty school district superintendents and their leadership teams from across the region, the superintendent of Jennings School District in Jennings, Missouri left many attendees echoing her feelings on how to maximize digital learning in the classroom.
Chuck Baker, a math teacher from Bel Nor, Missouri tweeted:
I just want to give Dr. Jackson a hug. WOW. @JenningsK12 is evidence of power of trusting your kids #moedchat #FutureReady
Future Ready St. Louis co-host ConnectED Learning tweeted:
Innovation, Leadership, Creativity and change…..ALL about TRUST #Futureready #edchat  Thank you @JenningsK12
St. Louis Public Radio's Tim Lloyd wrote Sunday about the upcoming summit and Anderson's district where more than 90 percent of students qualify for free or reduced lunch. Lloyd quotes Anderson as saying she believes "Providing access to technology is huge in breaking the cycle of oppression and poverty."
A case study released Tuesday by the Alliance for Excellent Education proves Anderson's point. Building a Foundation: How Technology-Rich Project-Based Learning Transformed Talladega County Schools shows how Talladega County Schools – a predominately low-income school district – dramatically increased student engagement in the classroom and increased high school graduation rates through project-based learning (PBL) and the effective use of technology.
Many of those in attendance at Future Ready St. Louis hope to achieve similar results as those in Talladega and Jennings and saw the summit as an opportunity to learn how to make progress in their own districts. Dan Decker, Superintendent of Neosho R-5 School District in Neosho, Missouri, said educators have much to gain from the summits.
"It's going to be two-fold: it's going to be great for us to go show what we are doing here in Neosho, what our vision is, but it's also going to be good to get fed back into from districts who are maybe a little further in the process than what we are," he tells Neosho Daily News' Dave Horvath.
Superintendent Dr. Shane Robbins of Northwestern Consolidated School District of Shelby County, Missouri said his district's investment in digital initiatives has been successful, but added that attending the Future Ready summit is a great way to maintain progress and provide students with the best opportunities.
And attending the conference is the best way to learn being Future Ready is not solely about technology. Jennifer L. Scheffer, instructional tech specialist and mobile learning coach for Burlington Public Schools in Burlington, Massachusetts, says her time at April 21-22 Future Ready summit in Providence, Rhode Island taught her that students, learning, and strategic planning are key factors as well. Scheffer gave us 'An Inside Look at the Future Ready Movement' on her blog, writing, "The Future Ready Summits provide a platform for districts to share their great work, learn from others, and overcome the unique challenges facing their districts."
If you're a school district superintendent who wants to attend one of the Future Ready summits, there are still seven more between now and August. See the complete schedule and access registration information at http://futureready.schoolwires.net/domain/15.