The Daily Dish: Senate Set To Debate ESEA Rewrite July 7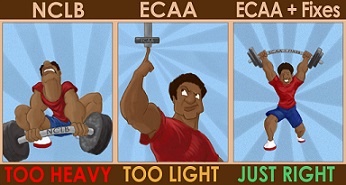 The Daily Dish digs deeper into one of the day's top news stories on K–12 education. Make sure to add High School Soup to your RSS feed for all the latest updates and follow the Alliance on Twitter at @All4Ed for more education news.
---
On Tuesday July 7, the U.S. Senate is expected to debate the Every Child Achieves Act (ECAA), a bipartisan bill to rewrite the Elementary and Secondary Education Act (ESEA) currently known as No Child Left Behind (NCLB).
Politics K-12's Laura Camera offered a preview of what to expect from the pending consideration in a recent article. Looking ahead, Camera says, "In general, expect a long debate, lasting at least through the week and potentially into the following week. After all, the last time the Senate got to cast a major federal K-12 vote was back in 2001, during the last reauthorization that resulted in the current iteration of ESEA, the No Child Left Behind Act. And that bill was on the floor for almost two months."
Thirty-six organizations, including the Alliance for Excellent Education, wrote a letter to Senate on June 18 asking for a vote on the bill to revise NCLB, with the inclusion of more accountability measures and safeguards for low-performing students and schools. The topic of accountability is likely to garner the biggest debate next week, according to Camera.
The Alliance for Excellent Education considers the Senate's ECAA rewrite of NCLB to be entirely too light on these critical measures, but feels there are several amendments, or "fixes," from senators to ECAA that would ensure that all schools and students receive the support and attention they need to succeed. To learn more about these amendments and to lend your support to them, download the infographic, "Getting School Accountability Just Right: Support Amendments to the Every Child Achieves Act."
Reauthorization talks are now also scheduled on the House side for next week. Camera explains that "…the House Rules Committee, which decides how bills are debated on the chamber floor, scheduled a meeting for the same day to consider for a second time its version of the federal K-12 rewrite. That would set up a vote for as early as July 8."  The Student Success Act, the House bill to reauthorize NCLB, was pulled from debate in February "after it unexpectedly began losing support from GOP members," Camera writes.
And while the Senate debate is likely to focus on accountability measures, Camera says the House might be more concerned with provisions in its bill that would give more authority to states over education policy.
To learn more about which amendments are likely to be offered to the bill during Senate debate to rewrite the No Child Left Behind Act, check out the latest Federal Flash video: https://youtu.be/wwLwDPw36yo
Categories:
Uncategorized