The Daily Dish: Senate Poised to Consider Every Child Achieves Act (ECAA)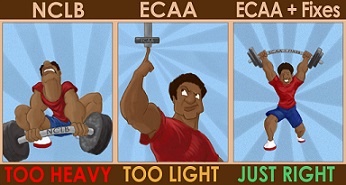 The Daily Dish digs deeper into one of the day's top news stories on K–12 education. Make sure to add High School Soup to your RSS feed for all the latest updates and follow the Alliance on Twitter at @All4Ed for more education news.
---
The Every Child Achieves Act (ECAA), the U.S. Senate's bipartisan bill to rewrite the Elementary and Secondary Education Act (ESEA) currently known as No Child Left Behind (NCLB) could be up for debate as soon as later this month. Politics K-12's Lauren Camera points out in a recent article that "While the ultimate decision will be made by Majority Leader Mitch McConnell, R-Ky., [chairman of the education committee Sen. Lamar] Alexander [R-Tenn] said Tuesday morning at an event hosted by National Journal that the federal K-12 reauthorization could get called to the floor as early as the week of June 22."
On the House side, Rep. Ryan Costello, R-Pa. this week urged GOP leaders to take up their bill to reauthorize NCLB. As The Hill's Cristina Marcos explains, "Costello implored lawmakers to at least consider legislation that offers a change from current education law." Marcos writes that the House bill, the Student Success Act, was pulled from debate in February because "Conservatives were frustrated that GOP leaders didn't allow votes on amendments allowing states to opt out of No Child Left Behind and eliminate federal testing requirements."
According to Camera – Costello might get his wish. Camera writes that the "GOP-backed" reauthorization could be back on the House floor in time for Senate discussions of the ECAA. While the House will likely focus on provisions in its bill that would give more authority to states over education policy, Camera asserts that "the biggest point of contention ahead of debate in the Senate is over whether or not to beef up accountability language, particularly dealing with states' poorest-performing schools."
The Alliance for Excellent Education finds the ECAA to be entirely too light on critical safeguards for low-performing students and schools. As a  report from the Alliance states, there are more than 1,200 high schools nationwide graduating less than two-thirds of the 1.1 million students they enroll; all the more reason to ensure the ESEA reauthorization supports students who need it most.
Several senators are working on amendments, or "fixes," to ECAA that would ensure that all schools and students receive the support and attention they need to succeed. To learn more about these amendments and to lend your support to them, download the infographic, "Getting School Accountability Just Right: Support Amendments to the Every Child Achieves Act."
To learn more about what's next for both the Senate and House bills to rewrite NCLB, be on the lookout for a new Federal Flash video Friday morning. Federal Flash is the Alliance's weekly five-minute video on the latest developments in federal education policy. If you're not already on the list, email alliance@all4ed.org to receive an email alert when the new Federal Flash is posted.