The Daily Dish: Senate and House Set to Begin Debates on NCLB Rewrite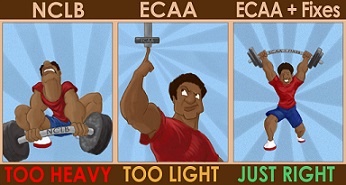 The Daily Dish digs deeper into one of the day's top news stories on K–12 education. Make sure to add High School Soup to your RSS feed for all the latest updates and follow the Alliance on Twitter at @All4Ed for more education news.
---
Today, the U.S. Senate is slated to begin debate on the Every Child Achieves Act (ECAA), a bipartisan bill to rewrite the Elementary and Secondary Education Act (ESEA) currently known as No Child Left Behind (NCLB). The U.S. House of Representatives is also expected to consider its proposed rewrite – The Student Success Act – on July 8, making this a potentially historic week for education policy and nation's main K-12 education law.
In a blog post this week, Bob Wise, president of the Alliance for Excellent Education and former governor of West Virginia, asserts: "While these legislative actions present the first serious opportunities in thirteen years to bring much-needed flexibility to federal education policy, both the House and the Senate bills could also start a major retreat from the recent historic increases in high school graduation rates while relieving states of their responsibility for turning around low-performing schools and ensuring that all students graduate from high school ready for college and a career."
Former U.S. Representative and chairman of the Education and the Workforce Committee George Miller (D-Calif.) echoed Wise's statement Monday. Miller, along with Celine Coggins founder and CEO of Teach Plus, said in an op-ed for The Hill that "political pressures in education" still work against many low-income students and students of color. And as Congress considers a rewrite of ESEA, it should also consider moving forward and away from those pressures. "Unfortunately," Miller and Coggins write, "going backward is what the current ESEA bills pending in Congress would do." They go on to say that "Congress shouldn't abandon the parts of the law, namely accountability, that have in fact transformed education for so many students."
The Alliance considers the Senate's ECAA rewrite of NCLB to be entirely too light on these critical measures, but feels there are several amendments, or "fixes," from senators to ECAA that would ensure that all schools and students receive the support and attention they need to succeed. To learn more about these amendments and to lend your support to them, download the infographic, "Getting School Accountability Just Right: Support Amendments to the Every Child Achieves Act."
As they stand, both bills introduced by the House and Senate have failed to impress several education and civil rights organizations. Added to the list are the U.S. Department of Education (ED) and the White House.
Politics K-12's Alyson Klein said both bills has left much to be desired by the administration – especially when it comes to accountability on the part of the government to aid low-performing schools, districts, and students. Klein explains, "The Obama administration is worried that neither version of the legislation does enough to ensure states stay focused on struggling schools and on closing the achievement gap. And it can't support either bill at this point, U.S. Secretary of Education Arne Duncan said Monday." Klein goes on to say the White House has threatened to veto the House legislation, which goes even further in rolling back federal accountability measures, but have not expressed the same for the Senate bill.
The Wall Street Journal's Isaac Stanley-Becker notes the pending conversations both the House and Senate will have over the next week or so present overlap.  "But the House and Senate measures have notable differences," Stanley-Becker writes, "suggesting the fight over education policy could take weeks or months to play out."
Stanley-Becker points to topics of federal education funding, accountability, and testing as areas that are likely to spark large debates among Congress, but both the Senate and House might face internal, partisan battles along the way.
The Washington Post's Emma Brown agrees, saying given the three key issues to expect over the span of debates – accountability, equity, and Title I portability – "There's no guarantee that Congress will succeed in crafting language that can pass both chambers and get a signature from President Obama."
But as Wise put it in his blog, Congress has a great opportunity to work effectively to couple "greater flexibility for states and districts with proven requirements that continue increasing high school graduation rates for all students." He concludes, "This week's floor debate on federal education policy should be about changing the provisions of the fourteen-year-old NCLB that do not reflect current education needs rather than reversing the gains in high school graduation rates."