The Daily Dish: Duncan Lays Out "Educational Rights" at National PTA Conference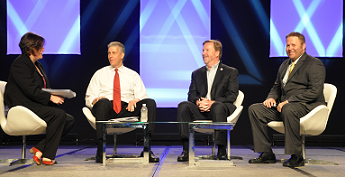 The Daily Dish digs deeper into one of the day's top news stories on K–12 education. Make sure to add High School Soup to your RSS feed for all the latest updates and follow the Alliance on Twitter at @All4Ed for more education news.
---
There are many vital components that help foster a student's academic achievement – including access to quality teachers and instruction, rigorous curriculum that prepares them for college and career, and the overall school environment in which they learn. During this new digital, "networked" age of learning U.S. Secretary of Education Arne Duncan argues that it is a student's right to have such things available in order to further his or her education.
During a speech at the 2015 National Parent Teacher Association Convention and Expo in Charlotte, North Carolina, Duncan described what he called a set of "educational rights" which must belong to every family in America in order to give every child an equal opportunity to learn. In addition to a strong parental involvement, Duncan concluded these rights – free quality preschool, affordable quality college and high, challenging standards in a well-resourced school – "come together as a set of rights that students must have at three pivotal stages of their life, to prepare them for success in college and careers and as engaged, productive citizens."
As The Huffington Post's Rebecca Klein notes, "The set of rights is designed to empower parents to get involved in their kids' educations. Research shows that students with more involved parents are more likely to get better grades and attend school regularly, regardless of their family's income or background."
Part of the battle is getting rid of the "obsolete belief that a quality education begins at age five and ends at age eighteen" Duncan said. A press release on the Department's website states "Every child deserves to attend a school that will prepare them for success in college and careers," and that access high standards, engaging teaching and leadership in a safe, supportive, well-resourced school, are possible through increased equity. Duncan has made it known that he feels Congress should work to pass a bipartisan reauthorization of the Elementary and Secondary Education Act (ESEA), currently known as No Child Left Behind (NCLB) that protects the nation's most vulnerable students and delivers on the promise of equity and real opportunity for every child. A number of organizations – including the Alliance for Excellent Education – feel the current Senate bill as it stands lacks accountability measures and safeguards necessary to ensure achievement for low-performing students and schools.
Duncan also addressed the recent proposed cuts in education spending by the Senate Appropriations Committee and the House Appropriations Subcommittee, calling them the "wrong choice for our children and for our country." As Politics K-12's Lauren Camera recently explained, the Senate committee approved a fiscal 2016 spending budget for education programs that would cut $1.7 billion in funding. Still, Camera writes, "Democrats agreed that the GOP spending plan was much less harsh on education than the proposal from House Republicans, which would slash funding for education by $2.8 billion and eliminate 20 programs entirely."
Such actions have the potential to end efforts that have had great impact on ensuring the educational rights students are entitled to, according to Duncan. He adds, "We need to fight for the resources needed to do the most important job in America.  Education should never be about politics. We should all want the best for our kids."