The Daily Dish: Report Shows Poverty Rate for African American Youth Remains Steady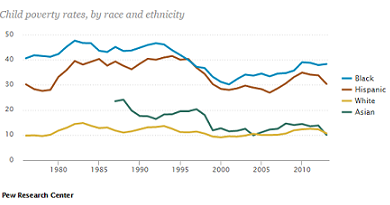 The Daily Dish digs deeper into one of the day's top news stories on K–12 education. Make sure to add High School Soup to your RSS feed for all the latest updates and follow the Alliance on Twitter at @All4Ed for more education news.
---
Poverty rates for kids from white, Latino, and Asian families has decreased in the last five years, but that can't be said for African American kids, according to a new report from the Pew Research Center. The report, which analyzed data from the United State Census Bureau, finds that for the first time since the federal government started collecting the subset of data, the number of African-American youth in poverty has surpassed that of their white peers.
Pew Research Center's Eileen Patten and Jens Manuel Krogstad outlined the reports major findings and explained that between 2010 and 2013 the overall percentage of children living in poverty declined from 22 percent to 20 percent, but the rate held steady for African-American students at 38.4 percent. They write, "[African-American] children were almost four times as likely as white or Asian children to be living in poverty in 2013, and significantly more likely than [Latino] children."
Sabrina Tavernise of The New York Times called the report "evidence that the economic recovery is leaving behind some of the United States' most vulnerable citizens." Tavernise points out "Researchers did not investigate the reasons black children were lagging,' adding that "one possible driver was the unemployment rate, which has been consistently higher for African-Americans than for most other racial and ethnic groups, and which took longer to fall after the recession."
One high school in Brooklyn, New York is beating the odds and graduated 100 percent of its African-American students last year, preparing them for college and career. The Hechinger Report's Meredith Kolodner takes a closer look at the Brooklyn College Academy and its Sophisticated Well Articulated Gentlemen's Group (SWAGG). Kolondner explains that SWAGG, a student-sustained fraternity, acts as prime example of what mentorship and holding students to high expectations – both academically and in life – can produce.
Kolodner adds that although 73 percent of the students at the school qualify for free or reduced lunch – a common marker of poverty, Brooklyn College Academy just misses the poverty threshold for extra federal funding. It relies greatly on its alumni network and fundraising to support its initiatives, which includes a large network of guidance counselors.
Although schools like Brooklyn College Academy has succeeded in helping low-income students and students of color succeed, there is still a large number of schools across the U.S. failing to graduate these subgroups. Give this, many believe it is critical to establish safeguards for the nation's most vulnerable students in the proposed rewrite of the Elementary and Secondary Education Act (ESEA), currently known as No Child Left Behind (NCLB).
U.S. Secretary of Education Arne Duncan, president and CEO of the National Urban League Marc Morial, and president and CEO of the Leadership Conference on Civil Human Rights Wade Henderson wrote in a blog for the Department's Homeroom:
"At a time when our public schools are more diverse than ever before and our nation's welfare depends to an unprecedented degree on developing the potential of every student in America, we must demand an education law that provides meaningful accountability and upholds principles of equity and excellence for all students. We urge Congress to pass a law that does just that."
Accountability for low-performing schools and students proven to be a topic of great contention among Congress as the House and Senate move toward rewriting the law. As the Senate continues its debate over the Every Child Achieves Act Wednesday, Senate is expected to vote on an accountability measures that would supply some support to traditionally underserved students and to high schools with low graduation rates.
For more on the Senate's proceedings this week, check out the latest edition of the Alliance's Federal Flash https://youtu.be/o_UHKbr5dac