The Daily Dish: Quality Internet Access is Important for Common Core Testing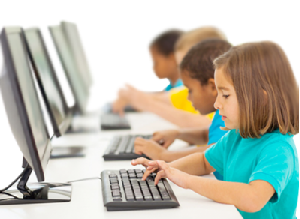 The Daily Dish digs deeper into one of the day's top news stories on K–12 education. Make sure to add High School Soup to your RSS feed for all the latest updates and follow the Alliance on Twitter at @All4Ed for more education news.
---
As Common Core online testing rolls out across the country, many schools and districts are hoping to make the transition to computer testing a smooth one. One factor that could help the transition would be narrowing the gap in access to high speed internet for rural schools.
In a Wednesday article for The Associated Press, Christine Armario and Sally Ho examine how rural and low income school districts with little internet access and no access to high speed broadband are navigating online Common Core State Standards (CCSS) testing. Armario and Ho take a close look at Cuyama Joint Unified School District in New Cuyama, California whose high school uses just one-tenth the minimum internet speed recommend for U.S. classrooms.
Last year the Federal Communications Commission voted to increase funding for the federal E-rate program and provide U.S. schools and libraries with access to an additional $1.5 billion annually to improve internet access. This move would help to decrease the digital divide typically felt by rural and low-income districts.
However, until that increase takes effect, schools and districts who recognize the benefits the CCSS aligned tests will provide – such as testing for more skills and providing more valuable information about students – are finding ways to work around current limitations to broadband.
Armario and Ho write the district has moved to: "Testing students in small groups, busing them to other schools and limiting all other internet access while exams are taken." They add that other districts have instead worked to improve their broadband connections.
One such district is Pittsburgh Public Schools (PPS) in Pittsburgh, Pennsylvania, which recently opted to implement a fiber optic network to all its schools and offices. According to an article from T.H.E. Journal, PPS is increasing its network speed so that schools using devices in the classroom are not "constrained by limited bandwidth."
As more students settle in at their keyboards for testing more educators are finding room for improvement in computer literacy. Education Week's Catherine Gewertz reports that as schools take up CCSS online testing, administrators are learning many teachers – and students – need a crash-course in keyboarding skills. And that's exactly what schools are giving them, making time during the school week for 'tech prep.' Gewertz writes:
"To close that skills gap, schools are increasingly making time in their days for old-fashioned typing instruction—translated to a computer keyboard—and other skills such as scrolling, mouse-clicking, and dragging-and-dropping."
Gewertz explains that through interviews with teachers and administrators, Education Week learned that a great number of them view this tech prep time  as a crucial set of skills for educators to become be "functional, tech-savvy adults." But more importantly, teachers interviewed agreed working on students' keyboarding skills with means helping them do their best with computer-based assessments.