The Daily Dish: Making Assessments Effective for Students and Teachers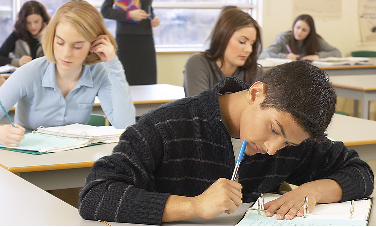 The Daily Dish digs deeper into one of the day's top news stories on K–12 education. Make sure to add High School Soup to your RSS feed for all the latest updates and follow the Alliance on Twitter at @All4Ed for more education news.
---
A July 2014 report from the Alliance for Excellent Education explains that the high turnover rate of beginning teachers costs the United States up to $2.2 billion annually. The report, titled On the Path to Equity: Improving the Effectiveness of Beginning Teachers, adds that in order to ensure new teachers are adequately prepared for the field, states and districts should develop systems to encourage high-quality educator development and teaching.
Some states have started doing just that by introducing more difficult teacher licensing exams according to a New York Times article by Elizabeth A. Harris. But Harris notes in the process officials are actually lowering the number of teachers of color who enter schools, "jeopardizing a goal of diversifying the teaching force." Harris wrote Tuesday that in New York, "…only 41 percent of black and 46 percent of Hispanic candidates passed the [widely used licensing exam called Praxis Core] their first time, compared with 64 percent of their white counterparts" over a six month period in 2014.
She goes on to say that racial disparities in teacher licensing exams have been evident for years, but have "become more pressing as states add tests or make them harder to pass" in effort to keep out the less able candidates who end up teaching in poor performing schools.
Harris points to edTPA, a new performance-based test designed by Linda Darling-Hammond, director of the Stanford Center for Opportunity Policy in Education (SCOPE), as one way states are trying to combat the issue. While the test is more reliant on a teacher's fluid skillset, Darling-Hammond says a reliance solely on testing will not completely address the need for quality teachers.
Jayne Ellspermann, principal of West Port High School in Ocala, Florida, agrees that a reliance on a single test score is not ideal for teachers – especially in terms of student testing. In the latest installment of the ongoing Common Core State Standards (CCSS) series from The Hechinger Report, Ellspermann asserts that tests cannot measure all the skills a student should be learning. She adds, "…when teacher and administrator evaluations are tied to student performance based on one test, it overlooks the complexity of the individual students."
Ellspermann goes on to say that the CCSS "provide us with the best model for how our system of education can fulfill its promise to all students. But if tests are to grasp student learning adequately, Ellspermann says there "should be a complete dashboard of metrics, not a single gauge." A January report from the Alliance on data dashboard systems would agree, stating that numerous individual performance indicators correct the shortcomings of accountability systems that rely on a single test score.