The Daily Dish: Linked Learning Prepares Students for Both College and Career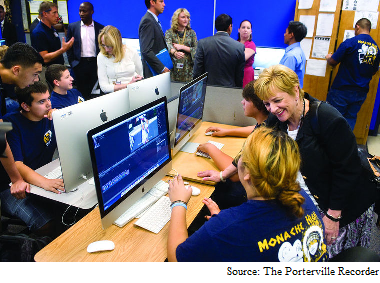 The Daily Dish digs deeper into one of the day's top news stories on K–12 education. Make sure to add High School Soup to your RSS feed for all the latest updates and follow the Alliance on Twitter at @All4Ed for more education news.
---
Linked Learning pathways afford students the opportunity to participate in rigorous academics and work-based learning which in turn allows them to graduate high school with the skills and confidence to succeed in college, career and life.
Thousands of students in California have been given the chance to explore various professional fields, benefitting in the long run from what Linked Learning has to offer. As Michelle Maitre put it in an article for EdSource,
"Research has shown that students feel more engaged in school when they are able to see the connection between their studies and real-world applications, such as how what they're learning in the classroom will benefit them after graduation."
Maitre outlines the stories of two teens who attend High Tech High School, a charter school in San Diego. The two teens were introduced to career development programs beginning in middle school and are now putting their training to the test in summer internships, a requirement for junior year students.
The two students from High Tech High School have not ultimately settled on which career path they want to in their post-secondary studies, something Ana Sical can relate to. In an article for The Hechinger Report, Brenda Iasevoli tells the story of how the former student of Kearny High School in San Diego fell in love with the field of engineering after enrolling in the school's engineering training program. Iasevoli explains,
"Sical had plenty of real-life practice in the role of engineer and designer at Kearny. This was the key, she says, to her transition from an apathetic student to an enthusiastic one."
Now a project engineer at University Mechanical in El Cajon California, Sical is a great example of the positive outcomes a Linked Learning and Career Pathways can have on students.
On May 14, the Alliance for Excellent Education hosted a delegation of California Linked Learning practitioners in Washington, D.C.. The group met with federal policy makers in an effort to educate those policy makers on the power of Linked Learning as well to have them consider how the approach could inform the reauthorization of the Elementary and Secondary Education Act (ESEA), Phillip Lovell, vice president for policy and advocacy for comprehensive school reform at the Alliance, stated in a blog:
"By centering high school around industry themes, what happens in the classroom becomes more engaging for students and more relevant to employers. This is the magic of Linked Learning and it needs to be reflected in, and supported by, federal education policy."
This attention to college and career readiness is not just taking place in California. More New York City students are enrolling in schools that offer them Career and Technical Education (CTE), according to an article from The Wall Street Journal's Leslie Brody. Brody writes that the city offers CTE in 51 public high schools enrolling 26,000 students. The schools offer programs that "use training in specific professions, such as television production and graphic design, as a hook to excite students about learning so they pursue college—and equip the students with marketable skills if they don't."
Linked Learning and career pathways are two-fold for students – allowing them to graduate with prepared for postsecondary and the workforce, supplying them with choices for the future.