The Daily Dish: Leveling STEM Education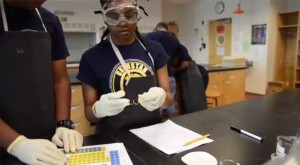 The Daily Dish digs deeper into one of the day's top news stories on K–12 education. Make sure to add High School Soup to your RSS feed for all the latest updates and follow the Alliance on Twitter at @All4Ed for more education news.
---
Increasing the number of U.S. students who pursue careers in science, technology, engineering, and math (STEM) fields is a continued effort at both federal and state levels.
President Obama has called on colleges and universities to graduate an addition 1 million students with STEM majors. According to the U.S. Department of Education's website, these improvements are dependent on the participation of "Hispanics, African-Americans, and other underrepresented groups in the STEM fields—including women, people with disabilities, and first-generation Americans".
Xavier University of Louisiana is one institution that has made such a goal part of its mission while working to highlight the underrepresentation of students of color in STEM education through its Summer Science Academy. A February 2015 report by the Alliance for Excellent Education notes the Academy's summer bridge program helps Xavier continue to rank first nationally in the number of African American students who earn STEM degrees and first nationally in the number who go on to complete medical school.
Programs like Xavier reach students in middle and high school – a critical time to boost a student's interest in STEM education. But what about the gender gap that plague this group of studies? Julie Kantor, chief partner officer for STEMconnector and Million Women Mentors, outlined national data on high school boys and girls and their interest in STEM in a Wednesday blog for The Huffington Post. Overall, 42.4 percent of boys expressed interest in STEM, while only about 15 percent girls expressed interest. This ratio continued across ethnicities, pointing to an increasing need to reach out to females across all groups and peak their interest in these four fast growing job fields.
Suren Ramasubbu, co-founder and CEO of parental control software Mobicip, asserts that in order to level this playing field for young women, "the foundation must be laid early" with mentoring, peer-to-peer outreach, and academics.
Common Core math standards aimed at depth of understanding of a course many deem as difficult and therefore shy away from. Former program officer at the William and Flora Hewlett Foundation Pamela Burdman says the new standards "ensure more students succeed in high school math, not just passing courses but actually understanding the mathematical ideas."
Some states are also hoping to provide students with a more complete understanding and appreciation of science. Education Week's Liana Heitin explains thirteen states and the District of Columbia have formally adopted the Next Generation Science Standards, but few have formally introduced them to the classroom statewide. Nevertheless, STEM educators appear to be in favor of these standards. The recent 2015 Business Report: National Survey STEM Education of some 5,000 science, technology, engineering, and math educators found that 60 percent of respondents support the new academic standards.