The Daily Dish: Improving WiFi Access for Rural and Low-Income Students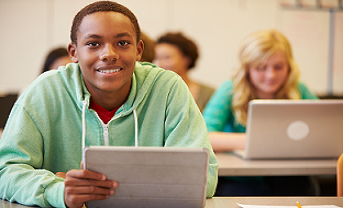 The Daily Dish digs deeper into one of the day's top news stories on K–12 education. Make sure to add High School Soup to your RSS feed for all the latest updates and follow the Alliance on Twitter at @All4Ed for more education news.
---
This month the Obama Administration ConnectED plan to provide 99 percent of the nation's students with next-generation broadband and high-speed wireless in schools and libraries within five years, celebrates its second year. A press release from the White House on the anniversary of ConnectED notes the great strides that have been made to reach that goal – including the modernization of E-rate and the Future Ready Schools initiative. Still, there is work to be done in order to provide internet connectivity for all students, especially those from low-income and rural areas.
The Hechinger Report's Nichole Dobo took a closer look at what increased broadband means for the most rural districts and how the afterschool program provided by Saint Paul Schools in Saint Paul, Arkansas is helping to bring access to rural and low-income students. Dobo speaks to Saint Paul Schools principal Daisy Dyer-Duerr who says while the program provides students who lack internet in their homes with afterschool WiFi, there is still the issue of busing students over long hours to libraries and back home. Dyer-Duerr's schools are part of the Huntsville School District, one of the four districts spotlighted at the Alliance for Excellent Education's Digital Learning Day 2015.
Dobo goes on to say the recent vote by the Federal Communications Commission (FCC) to restructure its Lifeline program could help to close the "Homework Gap" that exists for students from low income backgrounds, but even that might fall short for rural students. She writes: "In many remote areas…broadband simply isn't available in some places because no one built it there." That's why some districts are bringing students to the connection. Much like Saint Paul Schools' afterschool program initiative, Darryl Adams, superintendent of Coachella Valley Unified School District in California provided his district with a broadband solution – on idle school buses.
In a recent Q&A with T.H.E. Journal's Dan Gordon, Adams explained how his district – which serves 20,000 students, 80 percent of whom live in poverty – put WiFi routers on school buses in areas where families lacked high speed internet connectivity. Adams said during the Q&A: "The world has been opened up to them, and they're energized now like never before. I call it the digital magic in the classroom. It's really stunning to see what's happening."
Improving access to wireless internet and implementing a 1:1 program in Coachella Valley has resulted in more engagement in his students, says Adams. And the connection between the two is not by chance. A September 2014 report from the Alliance and the Stanford Center for Opportunity Policy in Education (SCOPE) finds that technology—when implemented properly—can produce significant gains in student achievement and boost engagement, particularly among students most at risk.
Specifically, the report identifies three important components to successfully using technology with at-risk students: (1) interactive learning; (2) use of technology to explore and create rather than to "drill and kill;" and (3) the right blend of teachers and technology. As Nick Chiles writes in a recent Q&A from The Hechinger Report, there might be one hurdle to "the right blend of technology." Chiles speaks with John Branam, a partner at The Learning Accelerator, who asserts the "overwhelming" lack of diversity among those in the education technology world "might lead to blind spots in creating digital educational material that appeals to students of color." Branam says, "If the folks that are most involved in the revolution are coming from a very similar background, I think we might find that we aren't as thoughtful about kids from all backgrounds and colors as we otherwise would have been."