The Daily Dish: House Passes Bill to Rewrite NCLB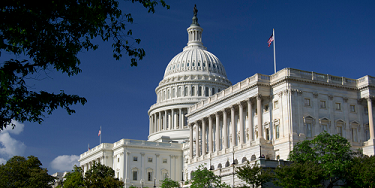 The Daily Dish digs deeper into one of the day's top news stories on K–12 education. Make sure to add High School Soup to your RSS feed for all the latest updates and follow the Alliance on Twitter at @All4Ed for more education news.
---
On Wednesday, the U.S. House of Representatives voted to pass the Student Success Act, the House proposal to rewrite the Elementary and Secondary Education Act (ESEA), currently known as No Child Left Behind (NCLB). The House voted 218-213 with no Democrats voting "yes" on the legislation and 25 Republicans voting against a bill that calls for a drastic scale back on federal involvement in public education.
In a statement following the vote, president of the Alliance for Excellent Education and former governor of West Virginia Bob Wise said: "In the name of providing more options to states and school districts, the Student Success Act removes long-standing protections for students from low-income families, students of color, and other traditionally underserved students. Options are good when you're buying a car, but no one would buy a car without seat belts." Wise goes on to say the passed bill makes optional a need for college and career ready standards as well as intervention when traditionally underserved students fall behind in the name of providing more freedom to states.
Secretary of Education Arne Duncan said in a statement released on the Department's website site that the House bill and its partisan vote "represents a huge step backward for America's students," shifting resources from struggling schools and the students those schools serve. "Instead of supporting the schools and educators that need it most, this bill shifts resources away from them," Duncan said. "Instead of ensuring states and districts improve struggling schools and serve all students, it makes that optional."
As New York Times reporters Jennifer Steinhauer and Motoko Rich note, the bill "includes a provision that would permit low-income students to transfer federal dollars between school districts, something the Obama administration has pledged to veto."
The passed-bill also includes an amendment that would allow parents to opt their students out of state testing as well as an amendment that gives states the option to withdraw from Common Core State Standards. But, as vice president of policy and advocacy at the Alliance Phillip Lovell stated in Thursday's special edition of Federal Flash, "Since Common Core is not a requirement, states already had this ability. This amendment was just the chance for House members to say something about the Common Core."
Although Speaker of the House John Boehner called the piece of legislation a "way to restore local control, and empower parents and local leaders to hold schools accountable for results," Emma Brown and Lyndsay Layton of The Washington Post say House Democrats do not agree. Brown and Layton write, "Democrats said the opt-out measure would gut the law's civil rights protections, giving administrators a loophole to discourage low performers to stay home on exam day, something that could skew performance results and hide racial or socioeconomic inequities."
The House originally brought the Student Success Act up for discussion in February, but pulled it from the floor because there were not enough votes to pass the legislation. Despite the partisan split and lack of support from the administration, Politico's Maggie Severns, Kimberly Hefling, and Jake Sherman point out that Wednesday's vote pushes the potential to rewrite NCLB further than it has been in previous years. They add that the focus is now shifted to the Senate floor, where debate continues and Democrats still hope to add in amendments that would establish some federal mandates on accountability for the benefit of traditionally underserved students.
For the House-passed bill and amendments that were adopted during House and Senate debate, check out the Alliance's special edition Federal Flash: https://youtu.be/Tr6VzolMPDQ
Federal Flash is the Alliance's weekly five-minute video on the latest developments in federal education policy. If you're not already on the list, email alliance@all4ed.org to receive an email alert when the new Federal Flash is posted.