The Daily Dish: Future Ready Summits Continue in Baltimore (#FutureReady)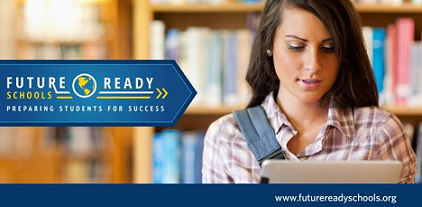 The Daily Dish digs deeper into one of the day's top news stories on K–12 education. Make sure to add High School Soup to your RSS feed for all the latest updates and follow the Alliance on Twitter at @All4Ed for more education news.
---
Future Ready Summits continue next Monday and Tuesday in Baltimore, Maryland. The event marks the ninth of 13 regional summits, which have hosted roughly 1,500 school district leaders so far and almost 2,000 superintendents have taken the Future Ready pledge. During a radio interview this week on Blog Talk Radio's Education Talk Radio PreK-20, Tom Murray, state and district digital learning policy and advocacy director at the Alliance, broke down the two-day event and why its focus isn't on technology.
"The premise of Future Ready is making sure districts have a systemic plan before we purchase,' said Murray, 'so we can use – on one hand – every tax payer dollar very wisely, but on the other hand also making sure that we truly doing for all children to expand their learning and truly give them every possibility that's imaginable."
Discussions on day one of the summit consist of strategies to build a culture of learning and leadership in schools, which Murray asserts are all part of empowering educators with technology and building a passion to drive learning with the use of technology.
Day two is about an action plan. Murray notes that taking the time to sign a pledge and attend a two-day event is wasted if no action is taken once leaders return to their districts. Leaders utilize the Future Ready Interactive Planning Dashboard to help assess their needs and make data-informed decisions on how set in place an effective 'roadmap' towards achieving success with technology.
While 1:1 devices in the classroom is certainly a great goal, Murray adds, it should not be a district's driving goal. Rather, a district should aim to change pedagogy in the classroom and to create opportunity for every students to engage in personalized learning with the help of technology.
S. Dallas Dance, the superintendent of the Baltimore County schools in Maryland, who will be in attendance at the Baltimore summit, called this shot at personalized learning a great promise for the future, according to an article from Education Week's Michele Molnar. Molnar summarized a panel discussion that took place at the Association of American Publishers' Content in Context conference this week on the future of education technology.
No matter where it's going, Julie Davis says keeping "Four C's" in mind could help to ensure technology in the classroom lives up to its potential for students and teachers. The instructional technologist at the Chattanooga Christian School in Chattanooga, Tennessee wrote in a recent piece for T.H.E. Journal that "As we integrate technology into our classrooms, we are seeing an increased benefit of critical thinking skills being honed, communication being ongoing and more likely, creativity being maximized and lastly, collaboration happening like never before."
Murray would add another "C" to the equation: Community.
"Community is a huge aspect to digital learning that must be an important point for districts moving forward with the Future Ready pledge," he said. "When we leave out the community – not having active community engagement in the process – we're leaving out a key factor."
Future Ready summits continue next week in Baltimore, Maryland on June 8-9 and Denver, Colorado Jun 11-12. For more information on how you can attend a Future Ready summit, visit futurereadyschools.org.