The Daily Dish: From Baltimore to Denver, Future Ready Summits Continue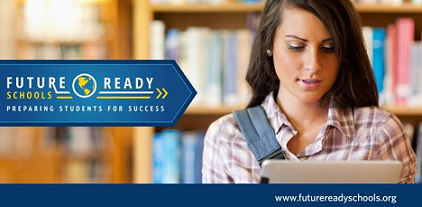 The Daily Dish digs deeper into one of the day's top news stories on K–12 education. Make sure to add High School Soup to your RSS feed for all the latest updates and follow the Alliance on Twitter at @All4Ed for more education news.
---
Baltimore is Future Ready following the two-day summit this week, marking the ninth of thirteen Future Ready Schools regional summits. The 31 districts in attendance in Baltimore gathered to learn how to improve teaching and student learning outcomes through the effective use of technology. Future Ready summits have hosted some 1,500 school district leaders thus far and almost 2,000 superintendents have taken the Future Ready pledge.
Lower Alloways Creek School (LAC) District in Salem, New Jersey was among the districts in attendance for the Baltimore summit. South Jersey Times wrote that the schools' superintendent Jay Eitner and his district leadership team attended the event to "further LAC School's commitment to becoming future ready" and to continue to raise the bar for the county and state in terms of helping students and teachers succeed. LAC district leaders tweeted their excitement, saying:
Round 2! Let's keep the conversations going! Nothing beats conferences where everyone is on point & REALLY know what's up! #FutureReady

— LAC School (@LACSchool) June 9, 2015
Education Week's Michele Molnar took note of the summit's collaborative nature and how strategy sharing among district leaders remains prevalent throughout both days. Molnar writes, "Teams share the successes and challenges they've already experienced with implementing digital learning, as they prepare for whatever the next phase holds in their districts. The activities are designed to encourage the teams to prepare plans that can be taken back to their schools, ready for implementation."
One such activity was designing the ideal Future Ready leader. Educators flexed their artistic muscle to display qualities that included being a risk taker, collaborator, and listener. Wendy Morales, a social studies teacher from New Jersey, tweeted a photo of her group's Future Ready leader, saying:
#FutureReady leaders inspiring change. Must be a group effort pic.twitter.com/D8mUzJdbCo

— Wendy Morales (@fabhistory) June 8, 2015
District leaders were treated to several discussions including a message from Roberto Rodriguez, deputy assistant to the president on education. Rodriguez spoke of the White House's ConnectED to the Future Convening where the regional summits were announced last November, conveying to summit-goers that a "pedagogical revolution" under the Future Ready framework is what will put learning back into the hands of students. The impact of the summit's speakers were not lost on educators in attendance. Maryland educator Jared Wastler tweeted:
The fact that @OfficeofEdTech's @rec54 and @WhiteHouse's Roberto Rodriguez are here speaks to the value of #FutureReady in education

— Jared C Wastler (@jcwastler) June 8, 2015
While professional development, community partnership, and overall trust in students and teachers were major topics of discussion in Baltimore, conversations of affordability were also present. As The Hechinger Report's Nichole Dobo explains, "Teachers are the people who must effectively blend high-tech tools into their instruction, but relatively few of them have much say over what classroom technology is purchased."
Dobo goes on to say that though Future Ready summits are not about the technology, they do in fact prepare leaders for purchasing down the road, creating a "vision for education, not what gadgets to purchase."
To relive the action from Future Ready Baltimore, check out the Alliance's Storify at https://storify.com/all4ed/future-ready-baltimore
Summits continue Thursday and Friday in Denver and Monday and Tuesday in Chicago. For more information on how you can attend a Future Ready summit, visit  http://futurereadyschools.org/domain/15.