The Daily Dish: FLOTUS Praises Career and Technical Education Programs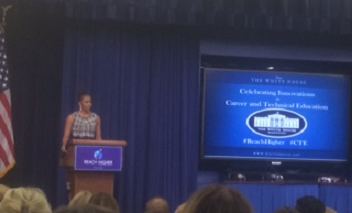 The Daily Dish digs deeper into one of the day's top news stories on K–12 education. Make sure to add High School Soup to your RSS feed for all the latest updates and follow the Alliance on Twitter at @All4Ed for more education news.
---
An education beyond high school is vital in order for young people to compete in the global economy. That's according to first lady Michelle Obama, who spoke to a group of students at the White House Tuesday about her Reach Higher initiative, aimed at inspiring every student to complete their education past high school. Obama stressed that Career and Technical Education (CTE) programs are a viable option for students to gain professional skills in a high-demand field at a fraction of the time and cost of a four-year college.
"[CTE programs] are good for students because they can learn new skills and find their passion," Obama said during her address. "They're good for businesses because they can tap into a pipeline of skilled talent.  And they're good for our country because these programs help us grow our economy, compete with other countries, and unleash the next generation of entrepreneurs and innovators."
Hayley Munguia of Five Thirty Eight told the story of two students who were present to hear the first lady speak about experiences in career training very similar to their own. The two are among a total of six students who make up the first graduating class of P-TECH, a public school in the Crown Heights section of Brooklyn, formally known as the Pathways in Technology Early College High School. She explains that the school gives its largely African-American and Latino student population an opportunity at a six year education that culminates in an associate's degree and a potential job with partner IBM. But, Munguia says, data on effectiveness on such programs is something educators are still working on. She writes, "Since P-TECH's first class of alumni is fresh off the graduation stage (two years early, no less), we're only now starting to be able to determine how well the school can achieve its goals."
While some programs are working to build out the data on their effectiveness, others are moving ahead with promising initiatives. In June, California Governor Jerry Brown and the state Legislature agreed to $900 million over the next three years to fund the California Career Technical Education Incentive Grant program. The Linked Learning Alliance applauded the funding, stating in a press release on the organization's website, "The integration of CTE and rigorous academics, work-based learning, and supports for students, are core components of Linked Learning." Linked Learning and career pathways are two-fold for students – allowing them to graduate with prepared for postsecondary and the workforce, supplying them with choices for the future.
High schools in New York are working to change the notion that a high school diploma is enough in the workforce by providing students with technical skills and college readiness. Gail Robinson of The Hechinger Report takes a closer look at CTE high schools in New York City "at the center of a transformation" in education. Traditionally, the 127 high schools in the city that offer career programs focus curriculum around work-based learning, providing students with career and technical skills. But as Robinson explains, schools such as Transit Tech Career and Technical Education High School have revamped curriculum to provide students with courses that place an emphasis on higher education, giving traditionally underserved students a boost towards a post-secondary degree.
Robinson writes, "Clearly, the mission of career education has changed, from giving a marketable skill to kids who are not college-bound to preparing students for college as well as the workplace… Programs include old mainstays like carpentry and auto mechanics but now also biotechnology, health professions and computer networking."
No matter what the students in New York or California decide to pursue after high school graduation, Obama says the most important thing is that they finish their education. "Whether you do it through one of these fantastic CTE programs, or whether you go on to a community college, four-year college — whatever you do, you've got to finish your education," she said.