The Daily Dish: Department of Education Announces Tools to Help Educators Rethink Discipline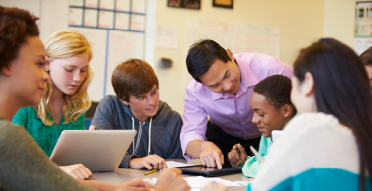 The Daily Dish digs deeper into one of the day's top news stories on K–12 education. Make sure to add High School Soup to your RSS feed for all the latest updates and follow the Alliance on Twitter at @All4Ed for more education news.
---
On Wednesday, The U.S. Departments of Education and Justice asked those in the education system to "Rethink Discipline," launching a campaign and inviting superintendents, teachers, and principals from across the country to the White House for a day-long conference aimed at tackling school climate issues surrounding disciplinary measures.
"Creating and sustaining safe, supportive schools is absolutely essential to ensuring students can engage in the rich learning experiences they need for success in college, work and life—that's why rethinking school discipline is critical to boosting student achievement and improving school outcomes,"  U.S. Secretary of Education Arne Duncan said in a press release from the Department of Education. "Today's conference shows that there are leaders across the country who are committed to doing this work. We are proud to stand as partners with these educators to say that we have to continue to do better for all of our students."
The press release, citing data from the Civil Rights Data Collection reports that over 3 million students are suspended or expelled every year, and that student subgroups – particularly African-American students – are hit hard by these forms of discipline.
The Washington Post's Lyndsey Layton took a closer look at maps provided by the Department of Education detailing where and which students are most likely to get suspended from school. Layton notes, "States in the Southeast suspend K-12 students at the highest rates in the country," and that a great degree of racial disparity between African-American students and white students is when it comes to suspensions and expulsions remains a concern, though some districts – such as Los Angeles Unified – have made steps towards addressing it. Layton writes:
"Experts say the reasons behind racial disparities are complex. A disproportionate number of black students live below the poverty line or with a single parent, factors that affect disciplinary patterns. But experts say those factors do not fully explain racial differences in suspensions. Other contributing factors could include unintended bias, unequal access to highly effective teachers and differences in school leadership styles."
The Alliance for Excellent Education's Climate Change series, in partnership with the National Opportunity to Learn Campaign, provides reports which examine how improving school discipline, access to rigorous course work, and access to effective teaching work together to positively affect schools and districts, as well as the broader education system. The second report, Climate Change: Implementing School Discipline Practices That Create a Positive School Climate, notes that middle and high school students subjected to harsh school discipline policies and practices such as suspensions and expulsions are more likely to disengage from the classroom and course work, increasing their chances of dropping out. In an effort to prevent discipline issues, the report recommends that schools and districts consider attending to early warning indicators such as truancy to identify and respond to potential incidents.
And as Politics K-12's Alyson Klein explains, the Departments of Education and Justice did offer up tools and resources to help school districts combat discipline issues and address school climate at Wednesday's conference. Klein makes note that this is not the first time the administration has taken on this school subject. She writes, "In 2011, the Justice and Education departments launched the Supportive School Discipline Initiative to address what's known as the "school-to-prison pipeline," the term critics use for policies that they say result in overly harsh discipline and inappropriate referrals from schools to the criminal justice system." Klein also mentions President Barack Obama's My Brother's Keeper Initiative, addressing equity for boys and young men of color. Rethinking Discipline, according to the Department of Education, will act in accordance with both missions.