The Daily Dish: Collaboration Takes 'Center-Stage' at #FutureReady Summits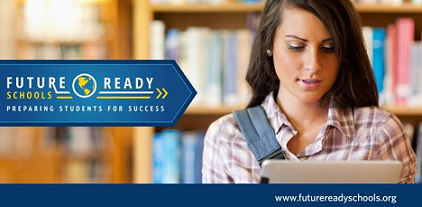 The Daily Dish digs deeper into one of the day's top news stories on K–12 education. Make sure to add High School Soup to your RSS feed for all the latest updates and follow the Alliance on Twitter at @All4Ed for more education news.
---
This week's Future Ready Summit in San Francisco was the seventh of thirteen regional summits focused on helping school district leaders improve teaching and student learning outcomes through the effective use of technology. Summarizing the two-day event, eSchoolNews' Ann McMullan notes that it is not the technology that takes center stage with Future Ready – it's the collaboration among education leaders. McMullan writes:
"The goal is for participants to learn from each other as well as from the educational technology veterans in attendance on how to create, implement, and sustain a thoughtful plan to use technology to effectively improve student learning."
On day one, educators were treated to a panel discussion with national education technology leaders on the role of digital learning in increasing student success in a globally competitive economy. The discussion was led by Bob Wise, president of the Alliance for Excellent Education and former governor of West Virginia; panelists included Richard Culatta, director of the Office of Educational Technology at the U.S. Department of Education, and Jessica Rosenworcel, commissioner for the Federal Communications Commission (FCC).
Audience members shared their appreciation of the discussion over Twitter. Educator Kristin Corey tweeted:
Panel on Landscape and Future of Digital Learning in K-12 Schools #Futureready Wonderful experience! pic.twitter.com/i2W57hrGph

— Kristin Corey (@CoreyKrisc) May 5, 2015
Education technology consultant Joseph South tweeted:
.@BobWise48 to #FutureReady superintendents: "You are making decisions today that will shape how tech is used in education for nxt 20 years"

— Joseph South (@southjoseph) May 5, 2015
 Superintendents and educators were also given the opportunity to utilize the  Future Ready Interactive Planning Dashboard – a free online tool to help school districts assess their needs and make data-informed decisions on how set in place an effective 'roadmap' towards achieving success with technology. To date, more than 1,850 districts have signed the Future Ready pledge.
Many educators are already working hard to lay out a plan for implementing the gears. Some started their Future Ready planning during the summit, such as Ron Henderson, Principal of Lake Don Pedro Elementary in La Grange, California:
#FutureReady brainstorming for PD pic.twitter.com/BOgGjJNPWh

— Ron (@HendersRon) May 5, 2015
While others, like Jason Molesky, executive director of technology & data services for Lakeville Area Public Schools in Lakeville, Minnesota, showed goals later on Twitter:
Roadmap set…time to start drafting the 2016-18 Tech Plan and Goals! WonderGeek Powers…Activate! #futureready pic.twitter.com/YEGiBI8dhA

— Jason Molesky (@StatsMonkey) May 7, 2015

Future Ready is traveling south to the Lone Star State. The eighth summit will be held in Houston, Texas May 18-19. Register for the summit is still open. Districts can sign up at futurereadyschools.org/register