The Alliance's Tom Murray discusses the 'Digital Divide' on Al Jazeera America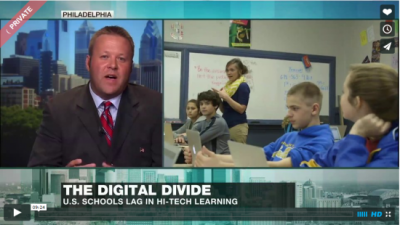 Tom Murray, state and district digital learning director at the Alliance for Excellent Education, was featured on Al Jazeera America's Real Money with Ali Velshi August 22  in a segment titled "Digital Divide," discussing the lag in digital learning among U.S. schools, especially in low-income school districts. Murray  spoke to the buying tendencies of school districts, which he said usually leaves teachers and students with the proper tools for education technology, but little knowledge on how to use them appropriately in the classroom. That learning, he said, often starts with teachers.
"We really need high-quality, professional learning for our teachers," said Murray. "In the areas where technology is working well, we have a systematic approach – a planning approach from districts. And what we're seeing from the teacher end is that when they're highly qualified and they have that learning, they are absolutely ready to go and it's roaring."
Any fear teachers might face, said Murray,  when implementing technology in the classroom can be alleviated by letting the student take charge, giving them a sense of importance through a more personalized lesson plan.
And all students should have access to that potential personalized lesson.  Murray said digital education is not just for the richest school districts, and that wise spending by district officials is a key component to providing this growing aspect of learning.
Click the embedded link below to check out the "Digital Divide" segment on Al Jazeera America's Real Money with Ali Velshi.

Categories:
Uncategorized