TEDtalks research shows technology has power to narrow achievement gaps between poor and affluent students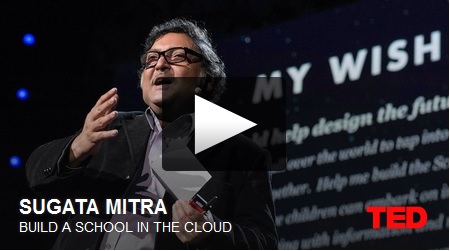 Sugata Mitra placed a computer in front of children who had never seen one. When he came back months later, they had learned to operate it, read the documents he stored on it on complicated subjects like DNA, and asked him questions to further their learning. Mitra's experiment showed that poor children anywhere are as capable of deeper learning competencies – like critical thinking and problem-solving skills, as their affluent peers.
I recently listened to Sugata Mitra's prize-winning TEDtalk on building his tiny "Hole in the Wall," in which he tears down major structures of traditional educational thinking while laying the foundation for major advancements in student-centered learning. I came away from the talk excited about his conclusions concerning narrowing achievement gaps between poor and affluent students. In his experiments, technology proved to be the great equalizer.
My thoughts on Mitra's work appear online in the Huffington Post. Here's an excerpt:
The most important conclusion from Mitra's work is not about the technology– more about that shortly–but in firmly establishing that poor children can learn and develop deeper learning competencies of creative thinking, problem solving, and self-reflection and learning — just like their more affluent peers.

Almost every survey shows an expectations gap between what students believe they can accomplish versus what the educators and communities believe is possible. The students bet high; the adults assume lower and that is where the level of learning ends up. For Mitra, there were no assumptions that were communicated to the students. He provided the computers as the access to learning, stepped back, and watched the children grow.

The more challenging lesson from the Hole in the Wall is that this learning would most likely not have occurred without technology. These children had successfully been ignored for centuries; why any difference for this generation? Besides providing access and the capacity to engage individual learning styles, the technology also provided an interesting style of engagement. Students wanted to use the computer; as they mastered this, they began broadening their search for knowledge. Does anyone believe the same learning results as well as enthusiasm would have occurred had Mitra had simply positioned himself in the Hole in the Wall and answered any questions of passing kids?
You can watch Mitra's talk and read my response on the Huffington Post: Opening Windows for Learners and Educators Worldwide.
Categories:
Uncategorized