Teacher Appreciation Week: Showing The World What #TeachingIs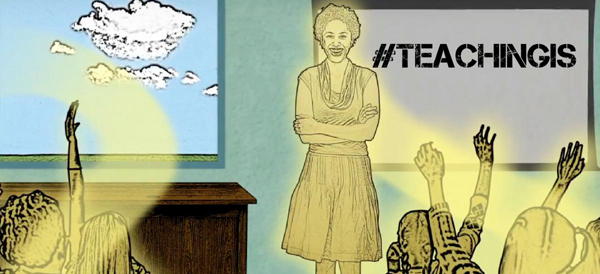 The following blog post comes from Julie Hiltz, a media specialist at Lutz Elementary in Hillsborough County, Florida, and a National Board Certified Teacher with twelve years of experience. She is also a 2013-14 Center for Teaching Quality Teacherpreneur, who is spending half of her workweek this school year engaging colleagues across the state in teacher evaluation and Common Core reforms.
Earlier this year, my colleague Jaraux Washington and I were lamenting the fact that legislation affecting teachers is often written without the input of those working in the profession. Surveys have shown time and again that teachers are among the most trusted professional groups—but somehow we aren't trusted to lead our profession. Why is this the case?
I believe this problem, in part, stems from negative images surrounding teachers. Instead of being seen as leaders, innovators, and professionals, teachers and their work are often trivialized with clichés and sensationalized in the media. If you think about it, what most people know or see about teaching are the challenges of modern-day education that play out on the news: ill-behaved students, difficult parents, teachers who inadvertently misspell a word on a homework assignment, or stories that reiterate the disparaging idiom "Those who can't, teach."
But these are just glimpses into the teaching profession—not accurate, meaningful depictions of what I and millions of other teachers do every day.
So what can teachers do to show the public the realities of our profession? Recently, Jaraux and I created a social media campaign called #TeachingIs to raise awareness about teaching—using photos, blog posts, tweets, and stories submitted by teachers.
This Teacher Appreciation Week (May 5-9), teachers and their supporters are encouraged to leverage the power of their social networks to share their stories and manifestos using Twitter, blog posts, Vine, Instagram, YouTube, graphics, six word memoirs, and more. All they have to do is use the hashtag #TeachingIs. You can see some of the material that's already being shared at http://www.teachingquality.org/teachingis.
Teachers have rich stories to share. They have anecdotal evidence of the day-to-day challenges of their career. They have quotes, notes, and letters from students about how their teaching has affected them. They have pictures and videos that convey how complex their work is. They have evidence to convince the public that they are exactly the people who should be leading education reform.
Join us in elevating perception of the teaching profession by showing what #TeachingIs.
Julie Hiltz is a media specialist at Lutz Elementary in Hillsborough County, Florida.
Categories:
Uncategorized