The Alliance for Excellent Education's Action Academy is an online learning community of education advocates. We invite you to create an account, expand your knowledge on the most pressing issues in education, and communicate with others who share your interests in education reform. This page serves as a tutorial demonstrating the different features of the Action Academy and how to navigate your way through them.

Step 1. Create an Account
By creating an account, you'll be able to earn points and badges. By creating a personalized profile/account, you can share your interests for others to see. And if you choose, you can display your Twitter handle, email address, and other contact information to allow people with similar interests to engage with you. Additionally, signing up for our webinars just got a whole lot easier! And, over time, we will be able to deliver more content that is personalized to your interests. You can use Facebook or LinkedIn to accelerate the process, or simply click on "Register Now" and create a username and password. Please note that usernames cannot be changed.

Any time you're logged in, you'll see the gray status bar below at the top of the page. It contains links to view your profile (picture icon) and edit your profile (pencil icon), where you can add information, including a photo, links to your Twitter handle and/or LinkedIn page, and a short biography.

Step 2. Start Learning!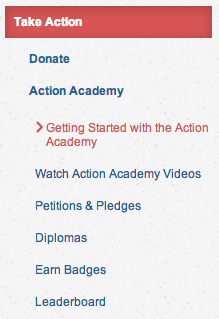 The Action Academy includes a range of "mini-courses" – a series of short videos and other content designed to help you become an informed advocate. There are also other videos and articles for you to explore. Click on "Earn Badges" to see all the courses, or click on "Watch Action Academy videos" to see all our offerings. When you complete a badge, you'll see it on the right side of the page, and in your status bar.
Clicking "View Progress" will expand the bar to show how many badges you've earned and how much progress you've made toward earning additional badges.

Step 3. Earn Points and Check Your Progress
The status bar also shows your diploma status. All your site interactions—reading content, watching videos, commenting, rating, or sharing—earn you points that add up to Action Academy diplomas. Click "Diplomas" along the right sidebar to see the list of diplomas and how many points you need to earn each. Clicking on "Leaderboard" will show how you stack up against other Action Academy users.
Step 4. Join the Conversation!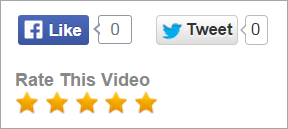 Share or rate videos or articles that you find useful. Or add your comments or questions! You can also look at the right sidebar to see other users' "Recent Activity," as well as the "Most Popular" and "Highest Rated" pieces of content within the Action Academy. To explore another user's profile, click on their name in the leaderboard.
Step 5. Take Action!
Now that you've gotten up to speed on the issues that matter, take action! Add your voice and show your support for the issues you care about by signing a petition or pledge, then sharing it. New petitions will be added periodically, as will opportunities to contact your elected officials to let them know your stance. You can also amplify your voice by sharing what you find with your local newspaper or other media.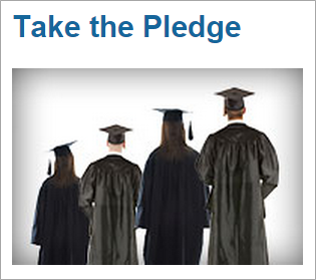 Step 6. Keep on Learning!

Clicking the house icon takes you to your customized Action Academy home page where you'll find content targeted to your interests.