Summary Report Available on 2013 edTPA Field Test

January 07, 2014 11:56 am

Teaching quality is recognized as the most powerful school-based factor in student learning. This does not mean, however, that all teachers have powerful effects on student learning. The findings from the 2012 Measures of Effective Teaching project report, funded by the Bill and Melinda Gates Foundation, show that teaching practice is average, not exceptional, and that most teachers lack critical competencies essential to meeting new rigorous learning standards. Using an array of measures of effective teaching, observers rated teachers highest for competencies related to classroom management and lowest for those associated with the most complex aspects of instruction such as using questions, discussion techniques, and assessment in instruction.
A number of initiatives are underway to reverse this trend, such as the design of edTPA, a new performance assessment for beginning teachers. The Stanford University's Center for Assessment, Learning, and Equity (SCALE), supported by the American Association of Colleges for Teacher Education, released the 2013 edTPA Field Test:  Summary Report that describes its development and validation.  Modeled after the National Board for Professional Teaching Standards' assessments of accomplished veteran teachers, edTPA was created with input from more than 12,000 educators from twenty-nine states and the District of Columbia and more than 430 institutions of higher education. It is aligned with the Common Core State Standards and the  InTASC Model Core Teaching Standards and is designed to meet new demands for on-the-job performance accountability.
The report summarizes the analyses of more than 4,000 submissions from the 2013 field test by content field, area of teaching, and candidate group.  It concludes that "…the assessments are well-aligned to the professional standards it seeks to measures, reflects the actual work of teaching, and that the score measures a primary characteristic of effective teaching."
Of particular interest is the educative value of the performance assessment. It provides actionable data that can support candidate development and improvements in programs that prepare teachers. Even though the edTPA measures twenty-seven different teaching fields, it captures a common set of teaching principles and high-leverage teaching behaviors.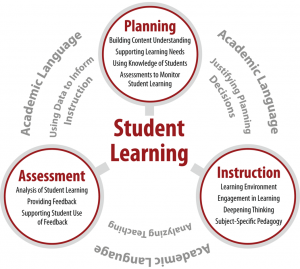 The rubrics for judging teacher's performance emphasize practices that research shows are linked to teacher effectiveness and student learning:  how teachers plan to support learning goals and student needs, engage students in ways that deepen their learning, create meaningful tasks and provide feedback on student work, support student learning of academic language, and analyze their teaching in relation to student learning and make plans to further students' progress. Moreover, eight of the fifteen edTPA scoring rubrics do not allow a candidate to score above a one—the lowest level—if he or she does not demonstrate some level of culturally relevant teaching practices that are absolutely essential to address the needs of diverse learners.
The SCALE report also notes that, like other studies, preservice teachers perform most highly on planning the teaching task, followed by instruction tasks and then the assessment task. This conforms to other studies that have found that learning to evaluate and respond to students' learning is one of the more challenging elements of teaching, one that eludes even veteran teachers. Numerous studies of teachers' use of high-quality, classroom formative assessment—assessment for learning—show some of the largest effects on student achievement reported in educational literature.
Standard setting for the edTPA was conducted in August 2013, just prior to its full implementation, in order to identify the performance expectation of an initially licensed, classroom-ready teacher. Three panels independently agreed on a score target of 42, with a confidence interval set at 39 to 42. Based on the 2013 field test data, at a cut score of 42, 58 percent of candidates would have "passed" edTPA on their first attempt.
This writer participated in the standard-setting event and examination of sample edTPA submissions. With new, higher standards and greater diversity among students, teachers must develop more sophisticated teaching skills prior to entering the classroom. Despite the potential impact on teacher candidates and preservice programs, a consensus emerged among the panels of practitioners, teacher educators, and state education leaders to set the bar high enough to ensure substantial improvement in students' access to effective beginning teachers. Moreover, as the SCALE report notes, the field test data do not reflect fully the operational results because many programs using the assessment for the first time have little experience designing support systems, coursework, or clinical experiences.
Ultimately, states hold authority for establishing their own passing scores.  A number of these states, however, already have developed policies for licensure or program approval using edTPA.
Georgia will require edTPA for teacher licensure beginning in 2015-16.
Hawaii will require a performance-based assessment such as edTPA for teaching candidates beginning in 2017.
Illinois will require a performance-based assessment of teaching for program completion in September 2015, and most teacher preparation programs in Illinois have been phasing in edTPA.
In New York, starting in May 2014, teacher candidates applying for licenses will be required to pass edTPA.
Tennessee now allows edTPA to be used as a substitute for a standardized test of teaching practice.
Minnesota's Board of Teaching, which approves institutions and licensure programs to prepare teachers, now uses edTPA as one measure.
Washington State will require teacher candidates to take edTPA to complete teacher preparation programs and receive licenses for most subject areas starting in January.
Wisconsin will require edTPA for teacher licensure starting in 2016-17. The assessment will be used as one measure for teacher preparation program review beginning in 2015-16.
Mariana Haynes is a senior fellow at the Alliance for Excellent Education.
Categories:
Uncategorized