Striving Readers Comprehensive Literacy Program Grantees Meet at US Department of Education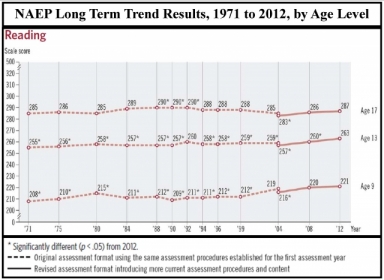 The recently released 2012 National Assessment of Educational Progress long-term trend assessments in reading show that in four decades there has been no progress overall for seventeen-year olds. But that may soon change as the federal government and states pursue a comprehensive approach to improving literacy outcomes for all children. In 2011, the US Department of Education awarded a total of $183 million in Striving Readers Comprehensive Literacy (SRCL) grants to Georgia, Louisiana, Montana, Nevada, Pennsylvania, and Texas to implement birth-through-grade-twelve literacy development and education programs.
The intent is to position literacy as a cornerstone of other state efforts such as advancing college and career readiness, improving educator effectiveness, turning around low-performing schools, and providing support systems for English language learners and students with disabilities. Never before have grants been awarded by the U.S. Department of Education for literacy projects aimed at comprehensive state programs that encompass such a broad age range.
On August 21-23, 2013, the U.S. Department of Education hosted a conference for state grantees and their sub-grantees—school districts and early-learning providers, which carry out the implementation of locally-designed strategies to improve literacy outcomes. The Department provided a forum to highlight emerging research and facilitate cross-state collaboration. It brought together representatives of a number of federally-funded projects to focus attention on the priority areas of leadership, improving learning outcomes, data-driven decision making, and coordination/collaboration to ensure a coherent approach to advance literacy. They included the Regional Comprehensive Centers, Regional Educational Laboratories, and the Institute of Education Sciences (IES) Reading for Understanding Initiative—created to develop effective approaches for improving reading comprehension for all students.
For example, Catherine Snow, Henry Lee Shattuck Professor of Education of the Harvard Graduate School of Education and keynote speaker for the first day, shared positive findings from a program implemented under the Strategic Education Research Partnership, called "Word Generation"—one of the IES' Reading for Understanding projects. Students encounter the words as part of a topic in content-specific activities in math, science, or social studies; debate the topic with their peers; and write persuasive essays defending their position. Merely learning additional academic words is insufficient. Snow emphasized that regular debate, persuasive writing, and critical-thinking activities improved students' academic word knowledge and their broader literacy skills as measured on a state-mandated reading achievement measure.
Presenters and state and district team discussions coalesced on a number of key takeaways:
Increasing students' ability to understand and construct meaning from written texts must happen within the specific subject area;
Students need extensive and explicit coaching in using discipline-based, strategic reading and thinking processes;
Both teachers and students need to get comfortable with a "productive struggle" to construct meaning from complex texts through regular debate, discussion, questioning, and writing;
Students need to be able to experiment, identify what they do not know and understand, and engage in a range of activities to construct meaning through collaborative, inquiry-based learning environments; and
This sort of teaching cannot be mandated; it must be fostered through the development of teachers' ability to reflect on and adapt their teaching practices in relation to student learning.
Positive results from the first year of SRCL implementation are beginning to emerge. Texas reported a major decline in the number of students identified as learning disabled. In a panel on data-driven decision making, Beverly Lawrason, Assistant Superintendent from St. Bernard Parish Public Schools in Louisiana, reported that the district, where 78 percent of students come from families living in poverty, moved up in rank from thirty-second among seventy districts to tenth. St. Bernard Parish teachers are now first in Louisiana in their value-added scores—estimates for each teacher's contribution to student achievement in a given year.
For more on this topic: Read the Alliance's publications on adolescent literacy
Mariana Haynes is a senior fellow at the Alliance for Excellent Education.
Categories:
Uncategorized