STRENGTHENING CAREER AND TECHNICAL EDUCATION: House-Passed Bill Would Rewrite Perkins Act, Better Align CTE with Twenty-First-Century Jobs

September 27, 2016 01:12 pm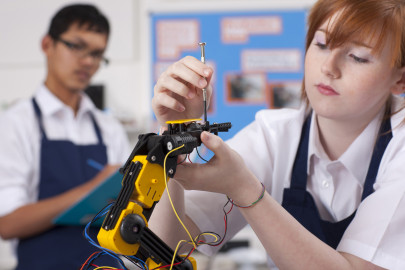 Bipartisan consensus is difficult to achieve—especially with a presidential election right around the corner—but the U.S. House of Representatives did just that on September 13, when it passed the Strengthening Career and Technical Education for the 21st Century Act by a vote of 405–5. The bill rewrites the Carl D. Perkins Career and Technical Education Act (Perkins), which provides more than $1.1 billion in federal education funds for middle schools, high schools, and postsecondary education.
"Career and technical education plays a powerful and positive role in helping individuals obtain the skills they need to be competitive in today's workforce," said U.S. Representative Glenn Thompson (R-PA), who introduced the bill. "With passage of the Strengthening Career and Technical Education for the 21st Century Act, the House has taken a significant step toward helping more Americans pursue fulfilling and successful futures. I am happy we were able to work in a bipartisan manner on this important issue and look forward to our continued efforts to ensure career and technical education provides many more students with a path to success."
The bill improves alignment with in-demand jobs by involving local business leaders in developing career and technical education (CTE) programs and setting performance goals at the state and local levels. The bill enhances the quality of CTE by strengthening the role of dual enrollment and work-based learning, aligning federal policy with innovative and effective career pathway efforts such as Linked Learning. The bill also provides more flexibility to state leaders, permitting them to direct federal resources to CTE programs that provide students with skills to fill available jobs in the state and local communities. The bill also increases transparency and accountability by aligning performance measures used to evaluate CTE programs with those set by each state under the Every Student Succeeds Act. It also streamlines performance measures at the postsecondary level and aligns them with those in the Workforce Innovation and Opportunity Act.
"Our nation's students are counting on us to make sure they are armed with the skills and knowledge that today's employers demand," said U.S. Representative Bobby Scott (D-VA). "Modern [career and technical education] programs help ensure students receive a foundational education, which can help them succeed in their work. This bipartisan, comprehensive reauthorization will improve program quality and services for students most in need of excellent academic content and real-world, work-based skill development."
The Senate education committee was poised to consider its version of a bill to rewrite Perkins on September 21, but the meeting was cancelled over a disagreement about prohibitions on the U.S. Secretary of Education proposed by Senate Republicans. At this point, the bill is not dead, but time is running out. Stay tuned to see if Congress gives the nation's schools a surprise holiday gift in the form of a rewritten CTE law during a post-election session of Congress.
More information on the Strengthening Career and Technical Education for the 21st Century Act is available at http://edworkforce.house.gov/news/documentsingle.aspx?DocumentID=400892.