STATE OF THE STATE ADDRESSES: Education Transformation and High School Graduation Rates on the Forefront

January 17, 2017 04:37 pm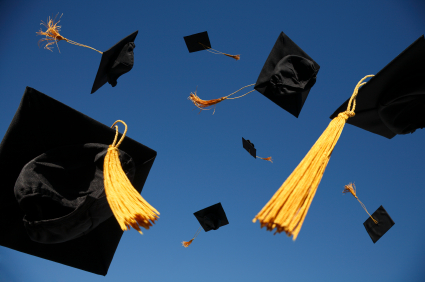 President-elect Donald Trump is not the only executive stepping in front of a podium this month. The beginning of a new year also means that the nation's governors will be celebrating recent successes and outlining new programs and ideas in their annual state of the state addresses. Governors speaking early in 2017 have focused on education accomplishments, including raising high school graduation rates, and presented areas for improvement and transformation.
Oregon: Gov. Kate Brown Shares Top Priority: Raising High School Graduation Rates
Oregon Gov. Kate Brown (D) was clear as bell during her January 9 inaugural speech: her top priority is improving Oregon's high school graduation rates. Although Brown acknowledged the investments and improvements made in education during her two years in office, she was more focused on unsettling statistics that make Oregon schools "among the nation's leaders in all the wrong categories," including highest dropout rate.
To raise the state's high school graduation rate, which is currently about 74 percent and is the third worst rate in the nation, Brown's agenda includes a graduation equity fund in the amount of $20 million, reports the Portland Tribune. The fund would replicate best practices from around the state to address chronic absenteeism, aid students who are experiencing trauma, expand mentoring and professional development for teachers, and invest in underserved communities.
"Let's make sure that every student in Oregon—especially historically underserved students–has the chance to achieve their own dreams," said Brown.
Georgia: Gov. Nathan Deal Talks Highs and Lows of Georgia's Education Landscape
Georgia Gov. Nathan Deal (R) framed many parts of his January 11 state of the state address with the theme of "accentuating the positive and eliminating the negative," including in the area of education. He shared the state's high school graduation rate, which has increased from 67.4 percent in 2011 to the current rate of 79.2 percent, as a great positive improvement.
Deal thanked the educators for this progress saying, "Those who are on the frontlines of this field, who mold young minds every day in the classroom and who answer such a challenging calling are the 'everyday heroes' that a successful society requires."
As for the negative, Deal discussed the state's 153 chronically underperforming schools, which have increased from 127 two years ago. These schools serve almost 89,000 students, primarily elementary age children. Deal stressed the importance of "reversing this alarming trend early on" and how eliminating this negative would improve reading and math comprehension skills and scores, graduation rates, and the quality of the Georgia's workforce.
"It should be abundantly clear to everyone, including those in the education community who so staunchly support the status quo, that this is unacceptable," said Deal. "If this pattern of escalation in the number of failing schools does not change, its devastating effects on our state will grow with each passing school year."
North Dakota: Gov. Doug Burgum Calls for Modernizing Education for a 21st Century World
North Dakota Gov. Doug Burgum (R) challenged the basic education model that "dates back to before statehood" during his January 3 state of the state address.
"Most North Dakota students still study isolated subjects, sit in rows of desks for 50-minute periods and wait for the next bell to ring. Yet nearly all of the world's information is now available online, anywhere, anytime, for free." said Burgum. "We can't prepare our kids for the 21st century using a 19th-century model."
Beyond a shift in model, Burgum said that educators, parents, business people, policymakers, and students are saying that performance on traditional measures is not enough to prepare students for the future. "They need to be creative problem solvers, effective communicators, informed and responsible citizens who are strong collaborators," he said. "The challenge for our schools is how to equip our students with these essential skills and learning mindsets."
When it comes to school transformation, Burgum called for superintendents, principals, teachers, and students to be at the forefront, but he also acknowledged the role of parents, businesses, community organizations, and legislators.
"We must also reframe education to be a lifelong endeavor, not something that merely ends with a diploma," he said.
Other Education Highlights
–Washington Gov. Jay Inslee (D) dedicated much of his January 11 Inaugural address to argue the case for fully funding education, calling on the imaginations of viewers as he painted a picture of what a fully funded education would look like in the state.
"Imagine schools that can recruit and keep great teachers, with competitive salaries. … Imagine closing the opportunity gap in our state by making sure at-risk kids have extra teaching and mentoring time. … Imagine more students graduating because we have psychologists, nurses and counselors who can help them cross the finish line. … Imagine students learning skills that employers tell us they need right now."
…Kansas Gov. Sam Brownback (R) is paving the way toward connectivity in the classroom through the EducationSuperHighway, so that "every student, in every classroom, will have affordable, effective, high-speed internet." His full state of the state address.
…Iowa Gov. Terry Branstad (R) wants all K-12 students to have access to high-quality computer science and introduced legislation that encourages every high school in Iowa to offer at least one computer science course. Learn more from his January 10 state of the state address.
…Colorado Gov. John Hickenlooper (D) emphasized the importance of skills-based training opportunities both in and out of the classrooms, including high school apprenticeships, so thousands of Coloradans can acquire career-focused skills that are transferrable to different industries. More in his January 12 state of the state address.
Categories:
Uncategorized