STATE OF THE STATE ADDRESSES: Diplomas in Indiana, School Choice Debate in Mississippi, Major Funding for Education in Idaho

January 30, 2018 01:32 pm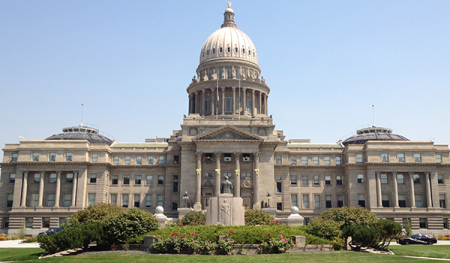 President Trump isn't the only one addressing Americans about the state of our nation. Governors have taken to stages across the country to deliver state of the state addresses. In early January speeches, governors have focused on life after high school, made big pushes for more education funding, and touched on the school choice debate happening at the local level.
Indiana: Gov. Eric Holcomb (R) Focuses on Life After High School
In his January 9 state of the state address, Indiana Gov. Eric Holcomb (R) emphasized the importance of preparing student to succeed after high school. He called for education that includes 21st century – or deeper learning – skills, like critical thinking and helping students develop academic mindsets.
"We must ensure that every Hoosier student receives an education infused with STEM subjects, critical thinking skills and the intellectual curiosity that prepares them for lifelong learning—so when they graduate from high school, they have a ticket to their future success, be it going on to college or entering the workforce to realize a fulfilling career."
Holcomb also referenced high school diplomas as a step towards a better future by touching on efforts underway to change the state's high school diploma system. Currently, Indiana has four separate diplomas. A bill has been introduced to create a single, college and career ready diploma. As Chalkbeat Indiana points out, it's not clear where Holcomb comes down on the issue, but he did call for a change, saying:
"Late last year, Indiana's State Board of Education took a crucial step by approving new graduation pathways for high school students beginning in 2019. And, this year, we must advance a more relevant high school diploma so that every student graduates with a diploma that is their opportunity to advance to the next step along their path."
All4Ed's Monica Almond explained the crux of the situation as it relates to the new federal education law in the IndyStar. The intent of the U.S. Department of Education is to "only count those diplomas that ensure the students who achieve them are college- and career-ready," the article says. "Doing so raises the stakes on states to make sure all students get equal access to the diploma program that best prepare them for life after high school."
Learn more about diploma pathways and why they matter: https://all4ed.org/diplomapathways/.
Mississippi: Gov. Phil Bryant Touts Accomplishments and Pushes for School Choice
In his January 9 state of the state address, Mississippi Gov. Phil Bryant (R) highlighted several educational accomplishments, noting that for the first time in the state's history, more than 90 percent of third graders have passed reading exams and the high school graduation rate has risen about 80 percent.
He also addressed some of the major issues still facing student in the states, including failing schools and underperforming students. "The reasons are systemic and are often related to a variety of conditions. Poverty, abuse, neglect and lack of leadership can all be listed," Bryant said.
Bryant also addressed the Jobs for Mississippi Graduates program, calling for more funding to "help increase graduation rates to the national average and build our workforce." He cited some of the program's success stats, including that over 90 percent of students at risk of dropping out go on to graduate and 80 percent of those students enter employment or postsecondary institution.
He also made a plea to expand school choice "for certain categories of children," specifically mentioning "offering special needs scholarships to even more students." The state offers $6,500 to parents of students with special needs to withdraw them public schools and enroll in private schools.
The school choice debate has dominated the political conversation in the state, with a recent rally drawing hundreds of students, parents, and teachers alongside Bryant and other prominent political members.
In response, several public education advocacy groups have expressed the harm caused by the movement. Joyce Helmick, president of the Mississippi Association of Educators, told the Clarion Ledger that support for is harming morale among public school teachers. "It is devastating to our educators the attitude policy makers have toward public education teachers…Ninety percent of students in this state attend public schools," she explained.
Idaho: Education Top Priority in Gov. Butch Otter's 2018 Budget
Funding for education was the top priority in Idaho Gov. Butch Otter's (R) January 8 state of the state and budget address. Under Otter's proposed budget for 2018, Idaho's five-year plan to improve schools would receive a $104.2 million increase.
The breakdown of proposed funds highlights some of the priority areas for education, including:
$42 million for the fourth year of implementing the career-ladder system for educators
$6.5 million to expand literacy intervention efforts
$5 million for college and career advising
$10 million in school technology (bringing annual investment to $36 million)
$1.4 million towards ongoing shift to mastery-based education
Otter totted the state's improvement plan as a "watershed achievement for Idaho," specifically highlighting the strong stakeholder engagement from educators, patrons, and policymakers.
In his address, Otter also focused on the importance of workforce development, specifically the implementation of recommendations to expand postsecondary technical schools, create incentive funding for high school career-technical programs, and expanding career and technical education offerings in middle schools.
Other Education Highlights
…Arizona Gov. Doug Ducey (R) listed off several education funding priority areas in his January 9 state of the state address. Our favorites? Career and technical education, closing the achievement gap, and high-speed internet to rural schools.
Ducey also shared some key accomplishments for the state, including that four of the top five public high schools in America are in Arizona, and that Arizona students continue to lead the nation in improvements in reading and math.
Read or watch Ducey's full speech.
…Alabama Gov. Kay Ivey (R) used data to emphasize the need for all students to graduate from high school and earn a postsecondary certificate or degree. She pointed out that "By 2020, 62 percent of all jobs available in Alabama will require some form of postsecondary education.  However, today, only 37 percent of our workforce has achieved such an education."
Read her full state of the state address.
…Florida Gov. Rick Scott (R) proposed $12 million to establish an English Language Learners Academy to help Puerto Ricans students displaced by Hurricane Maria. The program would focus on reading improvements, learning programs, and ensure that these students are connected to the necessary resources and support.
Read his full state of the state address.