State Education Chiefs Have a "Moral Imperative" to Support Education Equity, According to New CCSSO Report

February 10, 2017 12:30 pm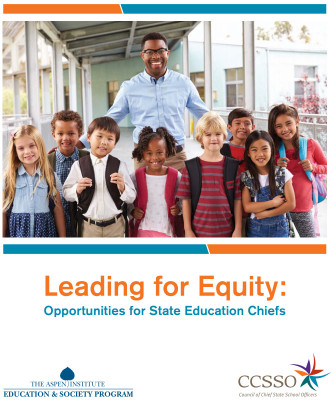 The Every Student Succeeds Act (ESSA) grants states new flexibility for how they improve students' academic outcomes, and that flexibility offers states a unique opportunity to create more equitable education systems. Consequently, chief state school officers must play a central role in advancing educational equity for all students, according to a new report from the Aspen Institute Education & Society Program and the Council of Chief State School Officers (CCSSO).
"If we don't use equity as the lens by which we implement ESSA we will be making a horrible mistake," said Tony Evers, Wisconsin superintendent of public instruction and past president of the CCSSO Board of Directors, during a recent event to release the report, Leading for Equity: Opportunities for State Education Chiefs.
The CCSSO report outlines ten commitments state education leaders can make to promote greater educational equity in their schools, from prioritizing equity in a state's strategic plan to building equity into the state's accountability system. For instance, the report recommends that state accountability systems include measurements of student academic proficiency and academic growth to track student performance over time. Additionally, it suggests that state school chiefs examine district course offerings and screening practices to ensure students of color and those from low-income families can access advanced course work and accelerated programs such as gifted and talented, Advanced Placement, International Baccalaureate, early college, and dual-enrollment options.
"Every student deserves the educational opportunities and resources necessary to unlock a prosperous future," said Danielle Gonzales, assistant director for policy with the Aspen Institute Education & Society Program. "Achieving that goal requires state leaders to take stock of the greatest gaps in their education systems, work with stakeholders to set the vision for an equitable education, and create the conditions to deliver on that vision for all students."
Equity is about more than closing student achievement and opportunity gaps, the report notes. Creating more equitable education systems requires states to expand the amount of culturally-relevant content in the state curricula and promote district adoption of textbooks written by and depicting individuals of color. Additionally, state education agencies (SEAs) should invest in efforts to recruit and hire diverse educators and district and SEA staff. State recruitment and hiring practices should increase access to effective teachers and school leaders for students of color and those from low-income families as well. Achieving equity also requires school systems to address issues of school climate and culture, such as eliminating exclusionary and zero-tolerance discipline polices that impact students of color at disproportionate rates. SEAs should support districts that develop interventions to address chronic absenteeism and efforts that nurture students' social-emotional development as well.
"Across the nation, kids of color, kids with disabilities, those learning English, and those from economic disadvantage face challenges that their peers do not. And unfortunately, some of those challenges are a result of policies and practices we have influence or control over," Evers said. "As leaders of state education agencies, we have a moral imperative to help remove any barriers that stand in the way of a student's success."
Kristen Loschert is editorial director at the Alliance.
Categories:
Uncategorized