Skyline High School's Green Energy Pathway Keeps Deeper Learning Afloat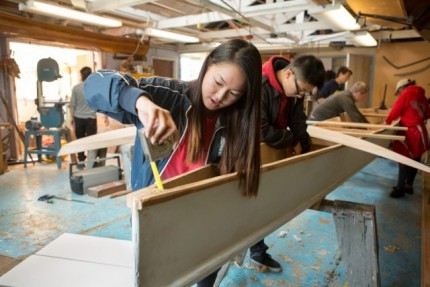 Early on a Friday morning in May, Dale Fiess and his students took to the water. For the students, it literally was a sink or swim moment. The time had come to launch the solar-powered boat the students had built and see whether it could compete against the other teams entered in the California Solar Regatta.
The race was the culmination of three months and approximately fifty hours of work by students enrolled in the green energy pathway at Skyline High School in Oakland, California. Skyline is among the more than 400 schools in California that have implemented Linked Learning, an approach to transforming high school education that combines rigorous academics, career-based learning in the classroom, work-based learning, and integrated student support services.
High schools implementing Linked Learning focus on specific industry themes, such as engineering, health care, performing arts, and others, that teachers integrate across subject areas. At Skyline, students participate in one of four Linked Learning pathways, formerly known as academies: green energy, education and community health, visual and performing arts, and computer science and technology.
"The biggest draw of our academy is the science aspect and the science teachers," explains Fiess, co-director of Skyline's green energy pathway. "Kids who are interested in science are drawn to the program."
Bonnie, a tenth-grade student, joined the green energy pathway to take advantage of the multiple real-world experiences the program provides, like the solar-powered boat project. "The majority of my friends are in green academy and I heard about the great opportunities it offers—internships, field trips, and a lot of hands-on activities," she says.
Participating in the solar regatta had been one of Fiess's goals for the program for about five or six years, he says. But this was the first year that Skyline entered the event, which typically attracts schools from more affluent districts. Of Skyline's 1,837 students, 77 percent qualify for free or reduced-price meals and 94 percent are students of color. Additionally, almost half of the school's students speak a language other than English at home including Spanish, Cantonese, Vietnamese, Arabic, Filipino (Tagalog or Pilipino), Mien (Yao), Khmer (Cambodian), and Mam (Guatemalan).
"It was an exciting project that was unique, something that students could feel special about participating in," Fiess explains. "It fit well with the theme of our academy and what the students had been learning about. I know most of my students don't have the opportunity to build things, put things together, or create things of the scale that this project allowed."
Fiess and the team of ten students worked with a professional boat builder on the design, but the students handled most of the boat's construction and assembly. During the project, students developed practical skills in woodworking and water safety, but also applied core content knowledge on circuitry and solar energy they acquired in their green energy classes. The project also nurtured deeper learning skills such as problem solving, critical thinking, and collaboration as students worked together to troubleshoot wiring challenges and ensure the solar panels directed enough energy to the boat's motor.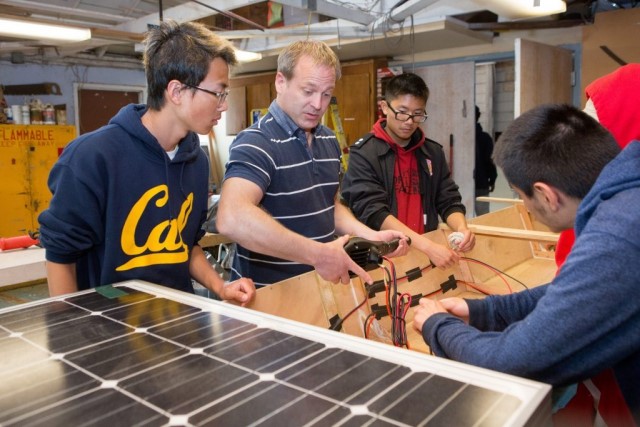 "They used their curiosity and intellect in a real-world setting," Fiess says of his students. "They learned how to reason through measuring angles, lengths, and depths through designing braces for the boat structure. They learned confidence in overcoming fears through operating power tools and paddling canoes on the water. They learned practical skills in tool use and electrical wiring that could be useful in the future. They learned that building things can be fun and that complex tasks can be interesting rather than daunting."
For the students, the project offered an authentic opportunity to apply their classroom course work in real life.
"I thought it would be a good experience to build a boat," says Kevin, an eleventh grader at Skyline. "When I found out we were using solar panels to power it I was even more excited since it really fits with the green academy concept.
The students' hard work, commitment, and persistence paid off on the day of the boat race. The team completed two sprint races and a lap during the endurance race. Most importantly, Skyline's team fared better than many of their competitors. "In the end, one [of the other] team[s] sank their boat, another burned out their motor, and another burned out two motors," says Fiess. "Our boat worked, was reasonably fast, and the kids did their best."
Skyline High School is one of seven schools featured in EDUimages, an online gallery of more than 700 original print-quality, royalty-free images of teachers and K–12 students engaged in activities that foster deeper learning. The Alliance for Excellent Education created the gallery with generous support from the William and Flora Hewlett Foundation to demonstrate to school leaders, teachers, parents, and students that deeper learning can succeed in schools of every type with students from all backgrounds.
The gallery also includes images from Capital City Public Charter School in Washington, DC;  MC2 STEM High School in Cleveland, Ohio; Middletown High School in Middletown, Connecticut; Sutton Middle School in Atlanta, Georgia; UCLA Community School in Los Angeles, California; and Wesley Elementary School in Middletown, Connecticut. To see more photos from the collection, visit https://images.all4ed.org/.
Kristen Loschert is editorial director at the Alliance for Excellent Education.
Photos by Allison Shelley/The Verbatim Agency for EDUimages