Sixty Years Is Too Long to Wait for an Equal Education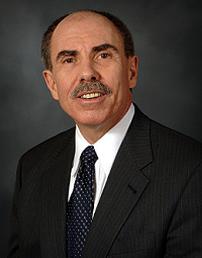 On May 17, 1954, the U.S. Supreme Court declared "separate but equal" to be unconstitutional when it decided Brown versus Board of Education. Sixty years later, however, the hope and promise of an equal education remains unmet for far too many of the nation's students.
Just last week, the nation celebrated the U.S. high school graduation rate reaching 80 percent for the first time, driven by gains in graduation rates for Hispanic and African American students. Since 2006, the graduation rate for Hispanic students has increased by 15 percentage points while the rate for African American students has improved by 9 percentage points, according to the latest Building a Grad Nation report.
Even with those gains, however, the graduation rate gaps between white students and students of color continue to persist. According to the four-year adjusted cohort graduation rates released by the U.S. Department of Education on April 28, high school graduation rates for Hispanic (73 percent), African American (69 percent), and American Indian/Alaska Native (67 percent) students trail that of white students (86 percent). Students with disabilities (61 percent) and English language learners (59 percent) fall even further behind. Moreover, graduation rate gaps actually widened between white and African American or Latino students in twenty-nine states between 2006 and 2012.
The challenge of providing an equal educational opportunity to students of color and closing these gaps will only grow in the coming years as their percentage of the student population increases. This fall—for the first time in history—the majority of public school students in the United States will be students of color according to U.S. Secretary of Education Arne Duncan. As shown in the map below, students of color already make up more than half of the K–12 population in twelve states (dark blue) and comprise between 40 and 50 percent of the student population in an additional ten states (light blue).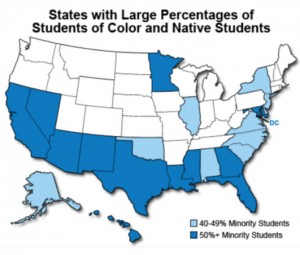 Without a quality education, all individuals will struggle to compete in today's knowledge-driven economy where 60 percent of jobs require some education after high school. Based on the latest data from the U.S. Bureau of Labor Statistics, high school dropouts are nearly three times more likely to be unemployed than college graduates. Even when employed, high school dropouts earn an average of $19,000 annually, compared to $28,000 for high school graduates and $52,000 for individuals with bachelor's degrees.
The short video below explains how everyone—from the individual students to those in the communities in which they live—can benefit from ensuring that every student graduates from high school with skills necessary to succeed in college and a career.
Historically, the country's moral failure to provide all children with an equal education did not incur a noticeable economic cost. This is no longer the case. Today, the moral imperative to equitably provide all students with a quality education is now a critical factor in maintaining the United States's national economic strength.
The time for action is now. The nation has already waited sixty years to provide all students with the excellent education they deserve. It cannot afford to delay any longer.
Bob Wise is president of the Alliance for Excellent Education and former governor of West Virginia.
Categories:
Uncategorized