Six Keys to a Classroom Makeover

October 06, 2014 11:20 am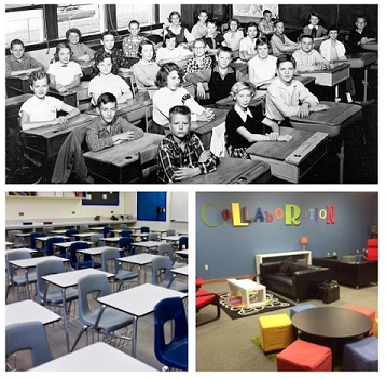 I recently had the opportunity to sit down with three of the nation's leaders in classroom design, and founders of the MTV-meets-classroom style resource, Classroom Cribs: elementary school principal Ben Gilpin, technology specialist AJ Juliani, and classroom teacher and award winning blogger, Erin Klein. In this Alliance for Excellent Education Project 24 Leadership Series Webinar, we discuss a number of keys to classroom redesign, the research behind designing a brain-friendly learning environment, and cost effective ways to transform student learning spaces. During the conversation, the following six keys to transformation became evident:
Student Voice is Paramount in the Design Process
In the webinar, Klein shares how it's important for teachers to "observe students in their natural habitat and work to accommodate their needs". Simply asking students how they'd like the room designed and what they'd like to see, as Klein recommends, helps transform the environment from one that is teacher-centric, to one that's student-centric and designed with kids' interests and needs in mind. In the design process, student voice matters. After all, whose classroom is it anyway?
Make Comfort and Flexibility Priorities
I once had a Superintendent share with me that he decided to randomly choose one of his high school student's schedules and follow it for two straight days. He completed the work, did the homework, and interacted like the student would have. What was one of his greatest takeaways? Realizing how uncomfortable it was sitting in the same type of metal desk and chair, 52 minutes at a time, for seven hours a day. He reflected how one of his main struggles was the learning environment itself. In the webinar, Gilpin refers many times to the importance of being physically comfortable. How often do we consider student comfort levels in the design process? Would we want to sit where our students do all day, no less all week long? If not, it's indicative of a problem and one that impacts student learning.
Another main discussion point relates to the flexibility of the learning environment. Many times the learning environment is inflexible in design; not lending itself well to collaboration, problem solving, kinesthetic activity, or center work. Yet, with what we know about how students learn, a social, collaborative environment is key. Flexibility is a must when redesigning a learning space.
Declutter the Space
As a relatively new teacher, I can remember going to the local teacher store and buying something for seemly every square inch of wall space. Although Pinterest may not have existed at that time, creating a room that was decorated to resemble the latest trend or fashion seemed only to make sense. However, with some of the latest brain research, we know that overstimulation can inhibit learning for many children. In the webinar, Klein shares that "it's important to decipher what's learning information and what's decoration"; as teachers often decorate to meet their own design taste, yet it's the learning information for students that's paramount. Other tips include: keep the room organized, consider the font and type of print used throughout the room, don't overstimulate always consider those with special needs, and remove information on the walls that is no longer relevant to current units of study.

Redesign Doesn't Have to Be Costly
It's easy for educators to assume that "redesign" equates to costing money, but that simply isn't the case. In the webinar, Juliani and Klein make the case that redesigning doesn't have to be costly. A simple bucket of paint, desire to declutter, and trip to a few yard sales can give one the fresh look, flexibility, and tools needed to complete a classroom makeover. Redesign doesn't have to mean a costly trip to the local furniture store and we see time and time again how teachers are good at tracking down useful stuff that people no longer need. Think creative, not costly.

Consider Color, Gender, and Lighting in the Design Process
Gilpin and Klein both emphasize the importance of neutral, monochromatic tones and colors that are gender sensitive. It's easy for a male teacher to use their favorite sports team as design inspiration, or a female teacher to choose the hottest polka dotted Pinterest theme, but it's vital that both genders are considered in the design process and stereotypical colors and themes may not be the best choice. Classroom colors should be warm and calming; not overstimulating and distracting. Colors should also always be welcoming to both boys and girls.
Traditional, fluorescent lighting can be distracting, cause headaches for some children, and therefore should be minimized, while the use of natural lighting should be maximized. Finding ways to create a calming effect, will not only help the students remain focused, but prevent overstimulation. Bringing in nature and natural colors will be supportive of the brain research as well.
It's More Than Your Four Walls
During the webinar, Gilpin shares that although one can start small, true redesign is much more than a single learning space and should be building-wide; starting with first impressions at the front door of the school building. "When they come in the front door, what do parents and students feel?", Gilpin asks, emphasizing the point that design starts where the car pulls up to the school building. The elementary principal goes on to emphasize the importance of hallway spaces, offices, large congregating areas like libraries, gymnasiums, and lunch rooms, saying that all spaces should be designed with such characteristics in mind. Using quotes and high quality student work in hallways can emphasize a building's mission, build school culture, and keep stakeholders focused on what matters most; student learning.
Archived video from the webinar, Redesigning Learning Spaces: Creating Brain-Friendly, Blended Learning Environments (Project 24 Digital Leadership Series), is available at https://all4ed.org/webinar-event/sep-17-2014/
For more resources on the topic of Redesigning Learning Spaces, check out the following:
Tom Murray is the State and District Digital Learning Policy and Advocacy Director at the Alliance for Excellent Education. Follow him on Twitter:  @thomascmurray
Categories:
Uncategorized