Scaling Up Twenty-First-Century Teaching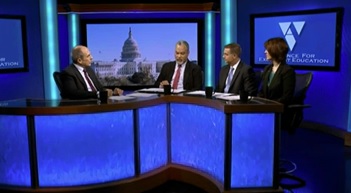 Urban systems across the globe face common challenges in developing effective approaches to professional learning for teachers, including practices that develop students' twenty-first-century skills and global competencies. How can systems build educator capacity to ensure all students attain the high-level competencies essential to succeed in knowledge-based economies, regardless of their cultural or economic background?
On April 10th, the Alliance, in partnership with Asia Society, held a webinar on scaling up twenty-first-century teaching—the focus of the March 2014 meeting of the Global Cities Education Network (GCEN) in Shanghai-China. Launched in 2012 by Asia Society, GCEN provides a forum for prolonged dialogue among top-performing systems in the United States and Asia, providing members extended opportunities to dive deeply into a central issue that is common among them.
Panelists were Tony Jackson, Vice President for Education and Leadership at Asia Society; Lisa Clarke, 2013 Washington Teaching Ambassador Fellow at the U.S. Department of Education; Lance Menster, Assistant Superintendent of Professional Support and Development with Houston Independent School District; and Vivien Stewart, Senior Advisor to Asia Society.  Returning from Shanghai, the panelists shared their perspectives on important lessons learned on how urban systems can design effective professional learning systems that equip teachers with skills to develop students' twenty-first century skills.
"I think the biggest take-away from observing Shanghai schools was how it approaches professional learning— as a comprehensive, well thought-out  system that assumes that all teachers are lifelong learners," said Jackson. "From the very first day of teaching, they have systemic ways to continue their learning and rise within the profession through well-defined career ladders." Teachers in the same subject area from different grade levels form teaching research groups to relentlessly focus on improving the quality of instruction through collaboration, observation, and peer feedback.
Lance Menster from Houston Independent School District (HISD) works with a team of 180 staff members to scale up consistent, powerful teaching across classrooms and schools. "We are doing more and more instructional coaching and campus-based learning with teachers in the classroom based on a common framework of effective teaching," said Menster.  HISD, the largest school district in Texas, includes 275 schools serving over 200,000 students with 80 percent low-income students. It received the Broad prize for the second time, based on its performance and improvement in student achievement while reducing achievement gaps among poor and minority students. It surpasses other urban districts on a range of benchmarks—graduation rates, proportion of students taking the SAT, and rates of participation in Advanced Placement exams, particularly for Hispanic students.
HISD is now undertaking a districtwide transformation to personalize learning.  Menster described the digital conversion underway through HISD Power-Up—a one-to-one initiative in which over 10,000 students received a lap-top in the first year of implementation.  "We have been clear that technology is only a tool," remarked Menster. "Houston invested in six months of professional learning to help educators convert to digital media before putting devices into the hands of students." Most importantly, teachers need extensive opportunities to work with their peers to personalize twenty-first century learning in ways that enable students to communicate, engage in critical thinking, and collaborate through the effective use of technology.
HISD PowerUp program in action at YMCPA with teacher Adrian Acosta from Houston ISD on Vimeo.
Finally, Lisa Clarke, Teacher Ambassador from the U.S. Department of Education, offered this comment. "When we talk about personalizing student learning, we also need personalized professional learning and evaluation models for teachers that can guide them in the right direction. Many teachers I meet want to stay in the profession and remain in the classroom, but they also want opportunities to lead professional learning as well as shape the decisions that impact their learning community and their students."
Lessons Learned
In summary, the GCEN meeting provided participants with important lessons on the characteristics of effective professional learning systems.
Every teacher is consistently involved in collaboration with other teachers at his/her school aimed at improving student learning.
The education system provides or creates access to effective professional learning opportunities for all teachers in addition to school-based collaborative learning.
Every teacher is provided sufficient time during their regularly compensated working hours to engage in professional learning.
Teachers' ongoing professional learning is incentivized through well-articulated career ladders.
The school system incentivizes the recruitment and retention of effective teachers new to the system.
The school system leverages partnerships with institutions of higher learning and relevant workplaces to support teachers' professional learning.
School and teacher leaders, middle managers, and system leaders are all engaged in regular, structured collaborative learning with peers focused on problems of practice relevant to their position within the school system.
The school system supports, incentivizes, and rewards teachers' efforts to thoughtfully develop and test pedagogical innovations.
The school system deploys a process for evaluating teachers' performance and growth geared primarily toward providing feedback that is useful in improving the teacher's pedagogical capacity and the learning of students specifically in his/her school.
Also, see the 2014 Global Cities Education Network report—Early Teacher Development: Trends and Reform Directions.
Mariana Haynes is a senior fellow at the Alliance for Excellent Education.
Categories:
Uncategorized