Representative George Miller and Alliance President Bob Wise Agree: Students Need a 21st-Century Education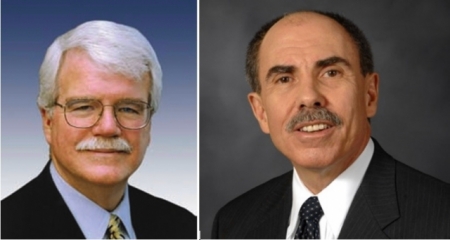 It's not every day that a member of Congress teams up with a non-profit organization to further a bipartisan goal, but that's what happened when Representative George Miller (D-CA) and Alliance President and former West Virginia governor Bob Wise co-wrote an editorial for Politico. Both Rep. Miller and Gov. Wise champion educational transformation, and they both believe in the power of digital technology to increase accessibility, opportunity, and achievement for all students, everywhere.
Earlier this year, Rep. Miller introduced the "Transforming Education Through Technology Act," which would "update and modernize learning systems by supporting teachers and principals in the use of new technology to redesign curricula, incorporate technology into classrooms and provide assistance with real-time data and assessments," as the op-ed explains. If passed, this bill has the power to expand technology innovation that can transform teaching and learning, just as onlnie ordering has changed the way we eat.
At the same time, Gov. Wise has led the Alliance for Excellent Education's Project 24, a district-level initiative to connect school districts to planning and resource materials to aid them in the transition and implementation of digital technology.
"Over the next 24 months, the Alliance will help school districts to implement a strategic plan for strengthening education outcomes through the use of technology at no cost," the joint op-ed reads. "The Alliance will help participating districts through a comprehensive planning process around seven interconnected areas where technology and digital learning can improve student achievement: teaching and professional learning, use of time, budget and resources, data systems and online assessments, curriculum and instruction, technology and infrastructure, and academic support and resources."
Rep. Miller and Gov. Wise share a common goal: to ensure that every student everywhere has the opportunity to learn. They share the vision that upgrading digital technology in schools around the nation can achieve that goal.
"Families can order dinner with the click of a button on a smartphone or computer, but teachers are still wiping chalk off blackboards. Newspapers and magazines are delivered to tablets every morning, but students study from texts that become outdated as soon as they are released," Rep. Miller and Gov. Wise write. "No single solution exists for these problems, but an effective use of technology can be a tool to increasing access to educational opportunities for disadvantaged students and closing the achievement gap. It can also empower teachers to design an educational experience that extends beyond the four walls of the classroom."
Categories:
Uncategorized