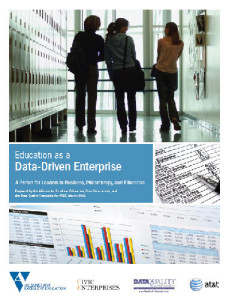 Education is on the road to a transformation into a data-driven enterprise. With better information shared with the appropriate stakeholders, individuals at all levels—teachers and parents, principals and superintendents, business and nonprofit leaders, and policymakers and practitioners—can accelerate their efforts to boost student achievement and to put in place the reforms, policies, and practices that strengthen education for all children.
In addition to highlighting three developments in education data that are positive signs that the education sector is in the midst of this transformation into a data-driven enterprise, this publication also discusses how educators, policymakers, and external stakeholders can maximize these new tools to improve decisionmaking and student achievement.
Leaders in business, philanthropy, and education must continue to play a key role in ensuring the success of the remainder of this transition and ensure that technology and data are used efficiently and effectively. These leaders can support the transition from snapshot data to longitudinal data, early-warning systems, and college- and career-ready indicators; support continued efforts to link data across systems; and help build capacity for data use while protecting privacy.
With advances in research, technology, and assessments, and with a focused effort, the U.S. education system can lead the world in becoming a data-driven enterprise. This publication provides leaders from business, philanthropy, and education with background on data issues; describes challenges that must be overcome; and makes recommendations for moving forward.