Replacing Snow Days with E-Learning Days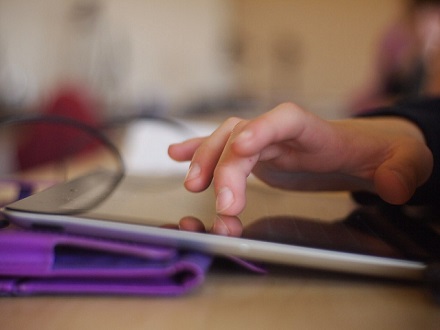 Sometime in the afternoon of the 11th snow day of the year, after watching the movie Finding Nemo for the third time and drinking hot chocolate, my third grader came to me with a question: "Mom, can you help me find something new to learn on the computer?"
"Do you want me to help you log into the school's website?" I responded, confused. Her teacher had posted a nice list of educational games and websites on the class webpage earlier in the year.
"I've already done all those," she replied. "I want something new. Something different."
This winter has seen huge swaths of the country hammered repeatedly by large snow storms, leaving many schools and districts behind schedule. Having long ago used up all of their designated make-up days, many districts are scrambling to fill in the gaps in their curricula by extending school years and cutting their spring breaks short.
In at least nine states, schools and districts are exploring the viability of e-learning days as a way to fill in the educational void left by unpredictable winter storms. Referred to as "cyber days" by some schools, e-learning days allow teachers to turn traditional snow days into days with an instructional purpose. E-learning days tap into snow days' untapped potential, providing students with activities and assignments to be completed from the safety of their home. In an era where many students have access to vast quantities of information virtually anywhere through computers, phones, and tablets, providing teachers with an alternative to lost instructional time seems almost like a no-brainer.
For an e-learning day to be a viable alternative to a traditional school day, it is imperative that the lessons be relevant and aligned to the school's written curriculum. Lesson plans provided by instructors need to be comparably rigorous to the learning experiences the students would have in the traditional classroom. For the experience to be meaningful and relevant, e-learning days cannot simply be a makeshift response to inclement weather, but must be carefully planned to ensure that they are implemented in ways that make sense. When planned and implemented well, the notion of 'anytime, anywhere' learning becomes reality.
When considering the adoption of e-learning days, it must be noted that there are a few obstacles that must be taken into consideration. One of the largest obstacles to the successful implementation of e-learning days is the fact that some students may lack devices and/or online access that e-learning days would likely require. Pre-planning proper instruction for these students is vital. Such days must not separate the 'has' from the 'has-not's,' as all students deserve and have the right to high quality instruction daily. Therefore, it's crucial that staff are well aware of the resource availability at home and plan accordingly. Inequitable distribution of technology can prevent districts from capitalizing on the digital learning opportunities that can exist outside the classroom.
Furthermore, districts must consider the legal ramifications for attendance. As such, teachers should provide clear pacing expectations as to what will be considered 'present' for the day. With states accounting attendance in various fashions, and funding often being tied to numbers of student days, this facet cannot be overlooked. Districts around the nation have been working closely with state departments to fine tune the expectations and legal ramifications of such non-traditional days.
As districts look to implement e-learning days, school leaders should also work with teachers unions and leaders to clearly delineate staff obligations for the day(s). Are there mandated synchronous hours? Virtual office hours? Is there a particular time, format, or platform that assignments will be posted? As with anything, the aforementioned aspects can become considerable roadblocks if not properly planned.
According to Ann Flynn, Director of Education Technology at the National Schools Boards Association (NSBA), in a New York Times article, about one third of districts already have some form of a one-to-one device initiative in place. These types of initiatives could potentially prove vital when implementing any kind of e-learning day.
Even with one-to-one initiatives in place, however, not all students have access to the internet in their homes, especially in impoverished and rural areas. To overcome such roadblocks, some districts are allowing for up to two weeks for the e-learning work to be completed. This type of timeframe allows for students without access at home to find a location to complete the work, not just a one or two day period. Other districts, such as some in Ohio, have coined the term 'blizzard bags', where hard copies of the materials are sent home for such occasions and where the need arises.
While these obstacles are not insurmountable, it is important that school and district leaders plan e-learning days with precision to ensure that all children can take advantage of the learning opportunities they are given. Similar to a traditional school day, the content must be rigorous, the lessons designed with proper learning objectives in mind, and high-quality learning experiences created. E-learning days shouldn't simply become forced busy work from home. With proper meaning, a high quality learning experience can occur.
This post is a collaboration by Daniel Gilbert and Tom Murray, staff members of the Alliance for Excellent Education's Center for Digital Learning, and Terri Schwartzbeck, Senior Digital Outreach Associate.
Categories:
Uncategorized