Reflecting on MOOCs Past and Present

January 17, 2014 08:07 am

This week, I begin a new adventure in learning: taking a MOOC (Massive Open Online Course). This is one offered through Coursera in a subject I find interesting and relevant to my work and personal interests. It's my second time taking a MOOC through Coursera. My previous attempt fizzled out when I found the courseload a bit more than I could handle on top of having a demanding full time job, parenting, and other responsibilities. This new one is a bit shorter and has fewer course requirements, so I'm more hopeful.
But getting that email from Coursera saying, "The MOOC Starts In Ten Days!" made me pause and reflect a little bit. Of course, here at the Alliance, we are also launching the third edition of our own MOOC-Ed, or MOOC for Educators, in partnership with our great friends at North Carolina State University and the Friday Institute for our Project 24 initiative. So I've seen from the back end how much work goes into producing a MOOC. It's also interesting to look back at how much MOOCs have grown in the last few years. This graphic from edsurge shows the rapid growth: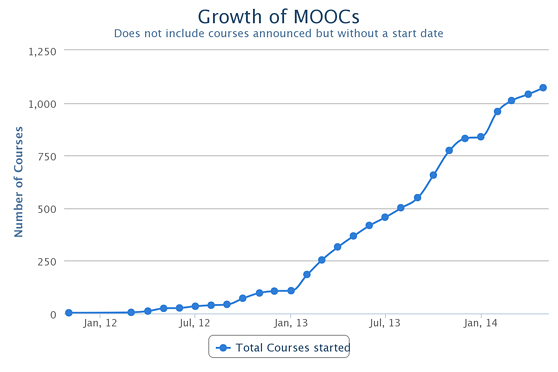 It's also interesting to note just the growth of MOOCs in the K-12 education space. Edsurge notes that 8.6% of MOOCs are related to education and teaching, and that Coursera's foray into teacher professional development in summer 2013 was a large part of that. Since then, more and more universities, nonprofits, and other organizations have joined the field as well. We at the Alliance were excited to see the folks at High Tech High launching two MOOCs this year, and even more gratified to see that Coursera was offering options specifically tailored to teaching the Common Core State Standards.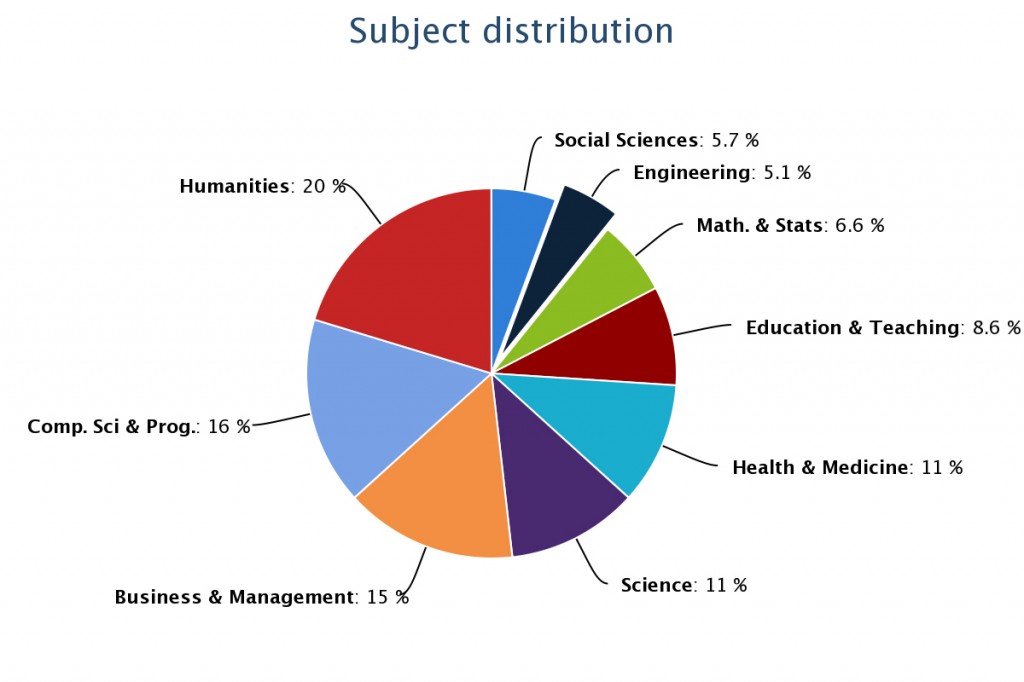 But at Project 24, we launched the first MOOC in spring of 2013, and at that time, it was completely first of its kind. The idea of reaching out to school and district leaders to help them navigate something as complex as the digital transition was completely new – no one had tried it. And it convinced everyone involved that there is tremendous potential in MOOCs for educators of all kinds. Learning that can be done on an individualized schedule, and that allows participants to explore content at their own pace? Feedback from peers alongside access to experts in the field? Numerous opportunities to apply new information to the world we live in? Sounds exactly what like teachers across the country are asking for!
Even though my efforts at Introduction to Psychology last year fizzled, I loved watching lectures wherever and whenever – on my iPhone on my commute, lounging on my back patio, or wherever I happened to be. 24/7 learning, anywhere, anytime really resonated with me.  Even better, I found that I could read through transcripts of the video first (I'm a very visual learner) and then watch the video afterwards, able to focus in more specifically on the concepts I needed to grasp. Other course participants began posting their lecture notes and summaries, which helped me organize my thoughts and highlighted areas I might not have picked up on as important in my first lecture viewing. I'm a believer that MOOCs are destined to be a part of the educational landscape. They truly make lifelong learning accessible to anyone. The range of options for consuming content allow for a more personalized experience – some people might prefer watching the lectures, others might be better off with transcripts – and the shared experience with hundreds or thousands of fellow students adds value.
And starting next week, the Project 24 MOOC will kick off its third edition. Over a period of eight weeks, participants will reflect on how technology can improve student learning and develop their own goals for their school or district. They'll hear from educators who have been there, and be joined by their peers from across the nation and the globe. They'll benefit from crowd-sourced resources that have already been vetted by two previous MOOC cohorts, and refined again and again. They'll have access to on-demand video of leaders talking about their experiences and insights.
Quite frankly, as a parent, I want every school district to have someone participating in this MOOC. Technology has a power that cannot be ignored any longer, and I don't think any district can reach its goals for student learning without a comprehensive, strategic plan for how to integrate technology into every.single.aspect of its operations. You can't improve teaching and learning without thinking about teachers and their own learning needs. You can't embark on changing assessment without looking at data. You can't expect results without looking at supporting students and families in and out of school. And you can't budget for any of it unless you have a plan.
So I'll embark on my Coursera MOOC with high hopes of watching every lecture and completely every assignment on time. But more importantly, I'll be following along, again, with the Project 24 MOOC, listening and learning as educators in schools and districts across the country take the next steps their own digital learning transition.
You can register for the Project 24 MOOC here.  The course kicks off January 20 – so don't delay!
Categories:
Uncategorized